RISE
Red Rocks Innovation in STEM Education (RISE) is a collaboration of STEM educators from Colorado community colleges, K-12 and universities with business and industry to strengthen pathways to engineering careers, advance equity in engineering through research, workshops and trainings, and develop opportunities for students to engage in real world problem-solving. 
Creating an Engineering Academy at Red Rocks
The Engineering Academy strengthens our engineering transfer program by developing engineering courses and providing community college students signature experiences in innovation, research, and professional development. Partnerships with business, government, community and universities provide engineering students with real world learning opportunities.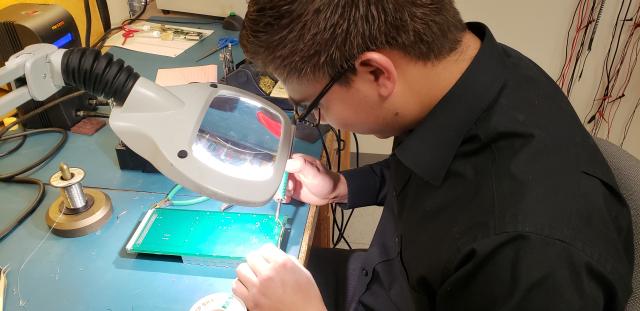 Equity in STEM and Innovation
Community college students, often low-income, first-generation, single parents, veterans, or minority students of color, are not seen as likely innovators. Yet they are motivated to improve their lives, the lives of others, and the environment around them by combining their life experiences with new knowledge and skills to make a positive impact on the world. The Equity in STEM and Innovation advances understanding about how best to engage, support and retain community college innovators through research and evaluation, strategic partnerships and professional learning. This effort is a continuation of work launched in Engaging and Retaining Low-Income, First-Generation (LIFG) Community College Students in STEM and Engineering (NSF award #  1431264, 2014-2018)
Red Rocks engineering students solving global problems
Select Past Projects:
Engineering by Doing
RISE facilitated a collaboration among engineering design faculty from Colorado School of Mines and RRCC, the RRCC Engineering Club and student veterans at Red Rocks to design and pilot the IDEA class (EGT 140 Introduction to Design and Engineering Applications), a project-based and hands-on approach to engineering. EGT 140 is now an approved transfer class for Mines and CU-Boulder.
Sustainability Fellows: Developing faculty as transformative agents of change for sustainability
Fellows program for educators from Jeffco Public Schools, RRCC and Colorado School of Mines. Acting as a cohort, fellows developed educational programming and initiatives around STEM and sustainability.
Our History
August 2010 – Red Rocks Community College launched RISE to transform education so that community college students develop the mindsets, skills, and sense of purpose needed to thrive in a rapidly changing world. RISE was funded by Community First Foundation through the Leach Family Donor-Advised Fund from 2010-2013
2010-2012 – RISE Fellows from across RRCC, Mines and Jeffco piloted initiatives in sustainability, engineering design and 21st century learning
2012 – RISE was awarded Outstanding Program by Colorado Community College System
2013 – RISE launched a new course in project-based learning and engineering design. In partnership with GrowHaus and Colorado Aquaponics, RISE students build RRCC's aquaponics system in the college greenhouse. This course would become IDEA (Introduction to Design and Engineering Applications) and accepted as transfer to Colorado School of Mines
2014 – RISE focuses on innovations in STEM Education, awarded $500k from NSF to engage and retain low-income/first generation community college students in STEM through projects that matter
2014 – RISE opened the IDEA Lab as a physical space for STEM students to collaborate on projects, resulting in a makerspace for RRCC
2015 – RISE and the IDEA Lab supported a student team who won first place in the National Science Foundation Community College Innovation Challenge (as well as top 10 teams 2016-2018)
2016 – RISE's IDEA Lab is awarded Outstanding program by Colorado Community College System
2017- RISE rebrands to IDEA Institute and is awarded a grant from the Colorado Community College System to Create Workforce for the Innovation Economy
2018 - The IDEA Institute hosts first High School Innovation Challenge with support from Xcel Energy Foundation
2020 - The IDEA Institute strengthens partnerships with K-12 and universities to develop innovative pathways into engineering and problem-solve around community problems after COVID19 and economic turbulence.
For more information:
Barbra Sobhani | Barbra.Sobhani@rrcc.edu