RISE Innovation Partnership
Red Rocks Community College launched RISE in 2010 to create innovations in applied learning where students develop the skills, mindsets, and sense of purpose needed to thrive in a rapidly changing world. RISE was funded by Community First Foundation through the Leach Family Donor-Advised Fund from 2010-2013. RISE launched a Fellows program with educators from Red Rocks, Jeffco K-12, and Colorado School of Mines. Fellows launched new initiatives, such as IDEA at Red Rocks, an engineering design course that now transfers to Colorado School of Mines, project-based learning and iSTEM in Jeffco, and Engineering by Doing with Colorado School of Mines where student innovators problem-solve around challenges with local and global impact.
As we transition from crisis to recovery after the Coronavirus pandemic, Red Rocks Community College is pivoting RISE to re-launch as the RISE Innovation Partnership to strengthen our bridge to community and employers so that together we co-create a skilled talent pipeline for future economic development.  Red Rocks students are entering the workforce during high unemployment and amidst grave uncertainty. Being adaptable, creative and thinking like an entrepreneur were already highly needed mindsets to be successful in our economy; post-COVID19 these attributes will be even more necessary. The RISE Innovation Partnership will support students to develop skills and mindsets used by innovators, designers, and entrepreneurs to solve complex problems.
Red Rocks Community College's IDEA Lab Answers a Call for Help During COVID 19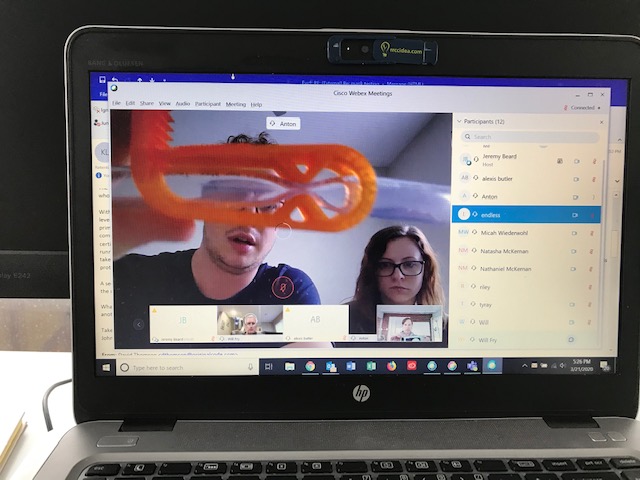 RISE invites Chambers, economic development organizations, community organizations, business and industry, and universities to partner with RISE to inspire, support and launch RRCC students as innovators for the community. Partners can connect early with future innovative talent for their workforce.
On campus, RISE is supported by the Center for Engagement and Innovation ("the Hub") and its affiliated programs: Entrepreneur Center, IDEA Lab, Service-Learning and Community Engagement, Internships, Diversity, Global Learning, and Honors. 
RISE and its partners will offer programming, guidance, mentoring, coaching and connections to local resources. Future programs of RISE could include:
RISE Student Leadership Network, affiliated with area Chambers
Design challenges around community problems
Innovation Competitions
Mentoring Program
Internships
Innovation Accelerator
There are many ways for businesses to be involved with RISE. Some possibilities include:
Serve on RISE Advisory Council
Provide a student internship
Provide a design challenge
Become a mentor
Host a site visit
Sponsor an event, challenge, hackathon, etc.
Serve as a competition judge
Donate equipment or materials
Our History
August 2010 – Red Rocks Community College launched RISE to transform education so that community college students will develop the mindsets, skills, and sense of purpose needed to thrive in a rapidly changing world. RISE was funded by Community First Foundation through the Leach Family Donor-Advised Fund from 2010-2013
2010-2012 – RISE Fellows from across RRCC, Mines and Jeffco piloted initiatives in sustainability, engineering design and 21st century learning
2012 – RISE was awarded Outstanding Program by Colorado Community College System
2013 – RISE launched a new course in project-based learning and engineering design. In partnership with GrowHaus and Colorado Aquaponics, RISE students build RRCC's aquaponics system in the college greenhouse. This course would become IDEA (Introduction to Design and Engineering Applications) and accepted as transfer to Colorado School of Mines
2014 – RISE focuses on innovations in STEM Education, awarded $500k from NSF to engage and retain low-income/first generation community college students in STEM through projects that matter
2014 – RISE opened the IDEA Lab as a physical space for STEM students to collaborate on projects, resulting in a makerspace for RRCC
2015 – RISE and the IDEA Lab supported a student team who won first place in the National Science Foundation Community College Innovation Challenge (as well as top 10 teams 2016-2018)
2016 – RISE's IDEA Lab is awarded Outstanding program by Colorado Community College System
2017- RISE is awarded a grant from the Colorado Community College System to Create Workforce for the Innovation Economy. RISE becomes part of RRCC's Center for Engagement and Innovation
2020 - RISE re-brands to RISE Innovation Partnership with business, government and non-profits to problem-solve around community problems after COVID19 and economic turbulence
For more information:
Contact Liz Cox, Director, Center of Engagement and Innovation at 303-914-6230 or liz.cox@rrcc.edu