Space Grant
Welcome to a new year of space at RRCC!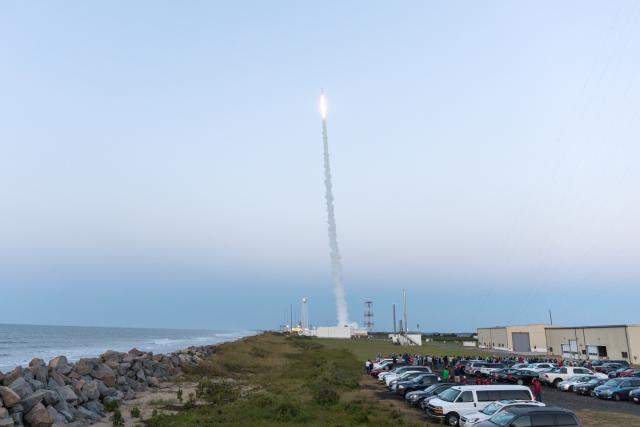 Check out our latest mission success! Be sure to pan around the 360 video https://www.youtube.com/watch?v=MQGmEVEjYq4
Interested in joining the 2022-2023 Space Grant Team? Send an email to lynne.albert@rrcc.edu(link sends e-mail)
---
For More information: View Short presentation on Space Grant at RRCC here
RRCC is part of the NASA Space Grant Program
Red Rocks Community College recently became a part of the Colorado Space Grant Consortium (COSGC), a state-wide program that provides Colorado students access to space through innovative courses, real-world hands-on satellite programs, and interactive outreach programs. We are funded by NASA as part of National Space Grant Program. COSGC provides opportunities for undergraduate research projects that involve a high altitude balloon launch through the DemoSat program (a low-cost access to the edge of space to encourage student innovation, creativity and persistence in science and engineering).
This year's projects:
GLEE lunar project Fall 2022
RockSat X launch August 2023
Telescope data network and radio telescope automation project
Mars Grow projects - ongoing
DemoSat launch April 2023
Robotics Challenge April 2022
RockSat rocket launch August 2022
2022-2023 Photos
Highlights from 2019-2021 Project: VRSE - Virtual Reality Space Experience
The team designed, constructed, tested and deployed a 360 camera from space on a sounding rocket. A 360 VR experience is being developed now!
https://www.nasa.gov/feature/university-students-prepare-to-rocket-experiments-into-space-from-nasa-wallops
Highlights from 2017-2018 Space Grant Teams
RRCC was part of the RockSat-X CCofCO team this past year. Project O.S.C.A.R. tested methods for space debris capture/ Their design and build was launched into space in August 2018. The Experiement deployed a mechanical arm, launched debris and captured debris. The secondary experiement tested small electrostatic charge methods. The full project report is posted here.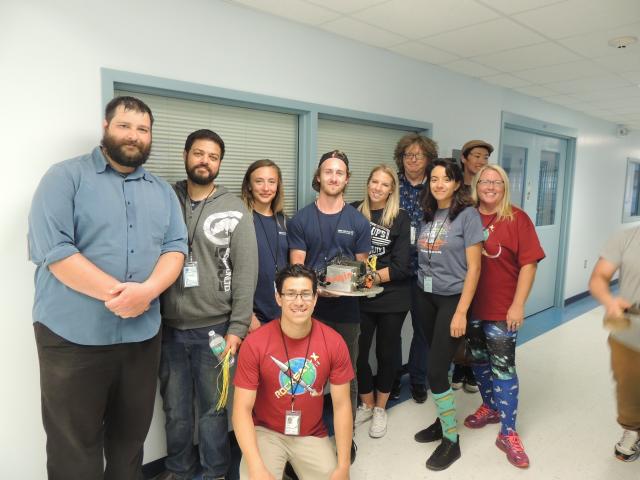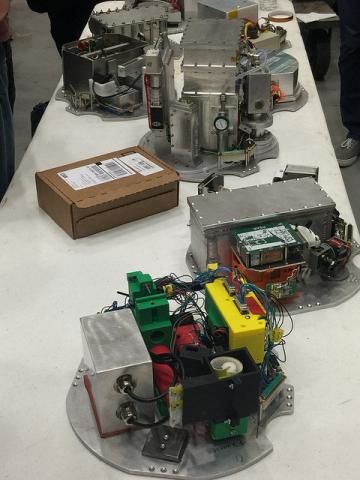 RRCC students Christian Prather, Rhiannon Larsden (not pictured), Brianne Treffner and Maggie Franchois were part of this inter-collegiate team (RRCC, CCA and ACC). This year-long project is highly demanding and an amazing opportunity to work with NASA and be a part of a rocket launch program.
RRCC Space Grant students also built and tested a radio telescope!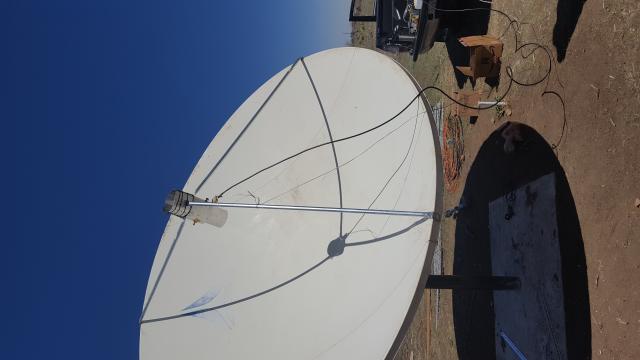 RRCC students presented their projects at the Statewide Undergraduate Research Symposium at CU Boulder.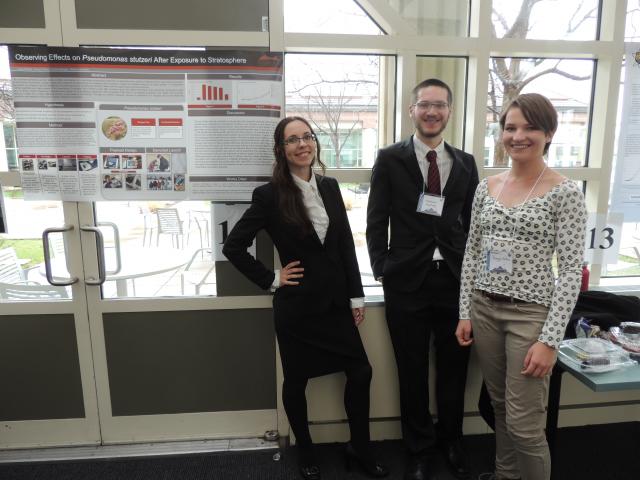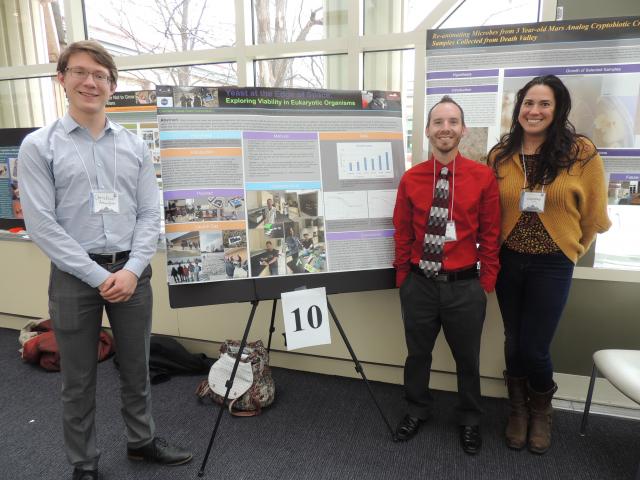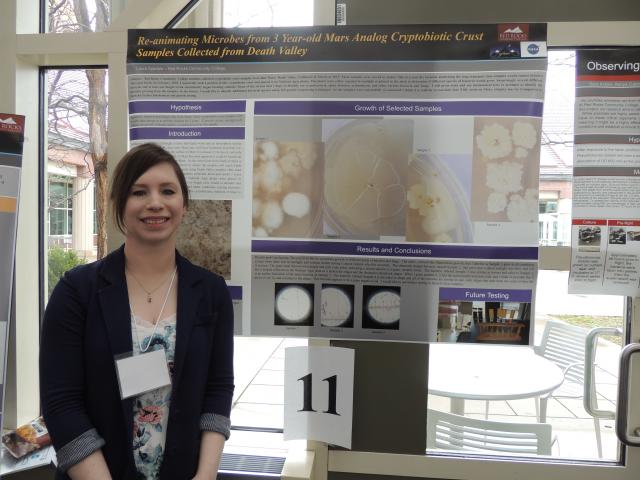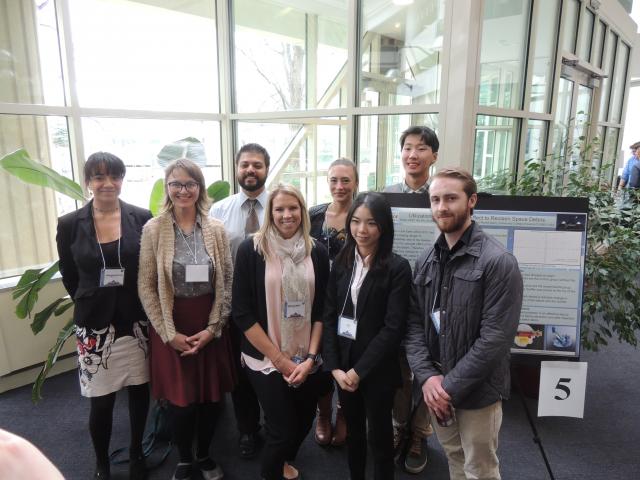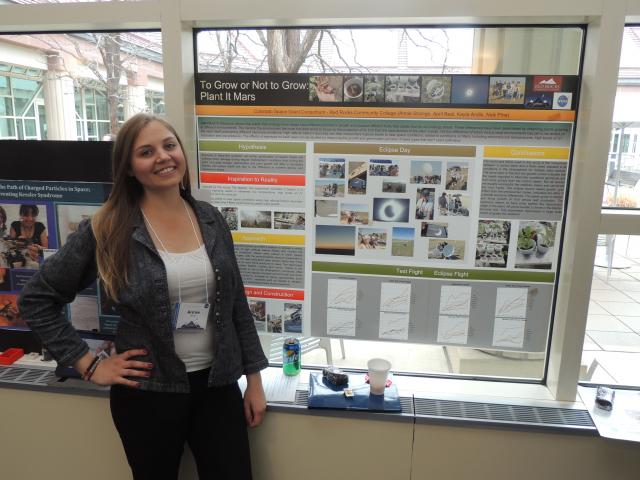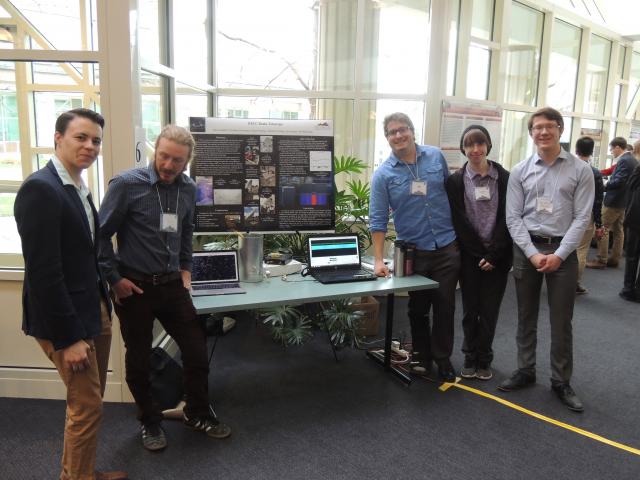 Radio Telescope Team won first place in the poster category!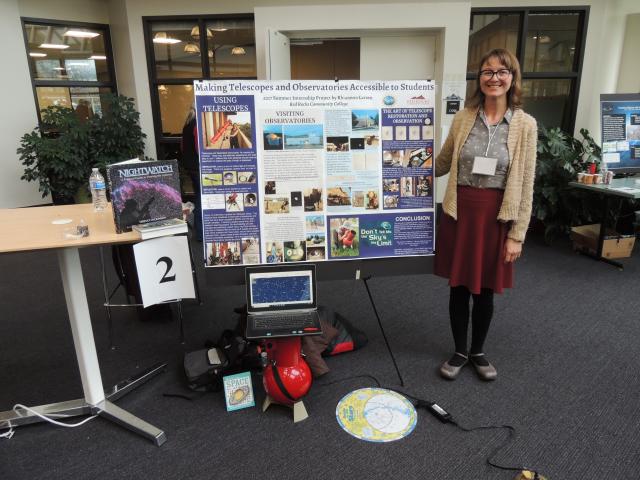 Highlights from 2016-2017 Space Grant Teams
Demosat team designed an experiment to cold-adapt yeast prior to exposure to high altitudes to see if their survival rates would be any different from control strains of yeast.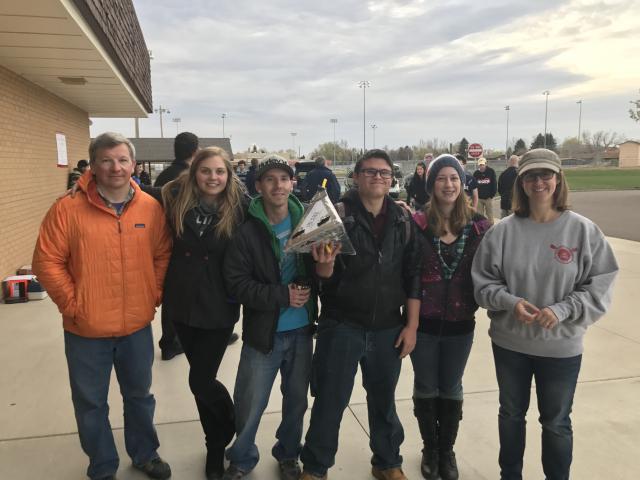 Robotics team brought their robotic rovers to the Colorado Robotics Challenge at Great Sand Dunes National Park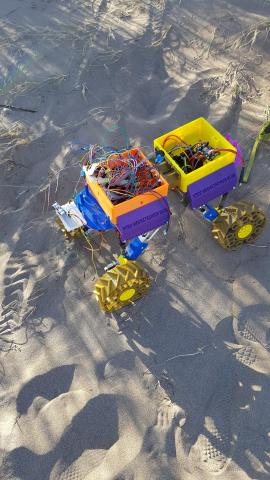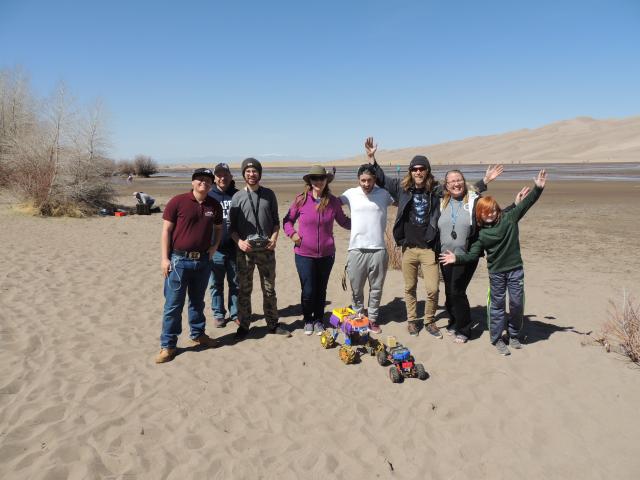 Students presented their projects at the COSGC Annual Research Symposium.
RRCC student, Christan Prather was the Grand Prize winner for his talk and paper on designing a low-cost thermocycler for DNA research.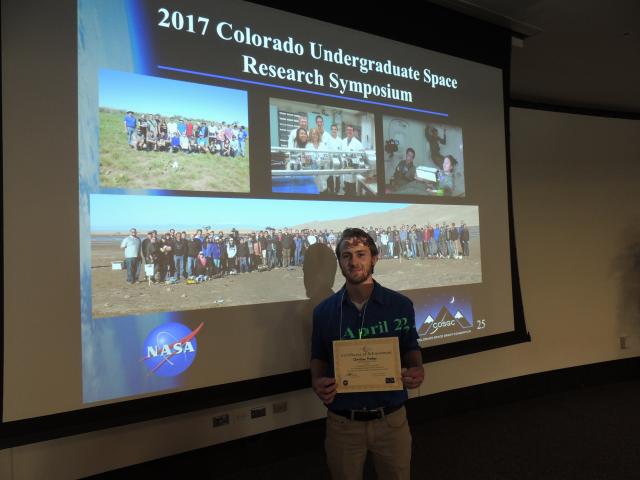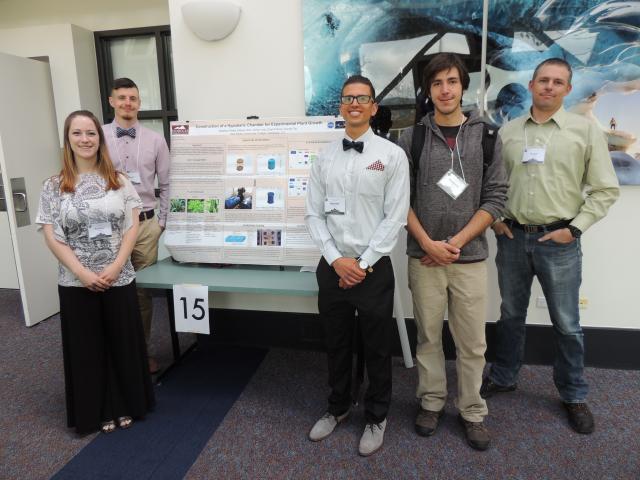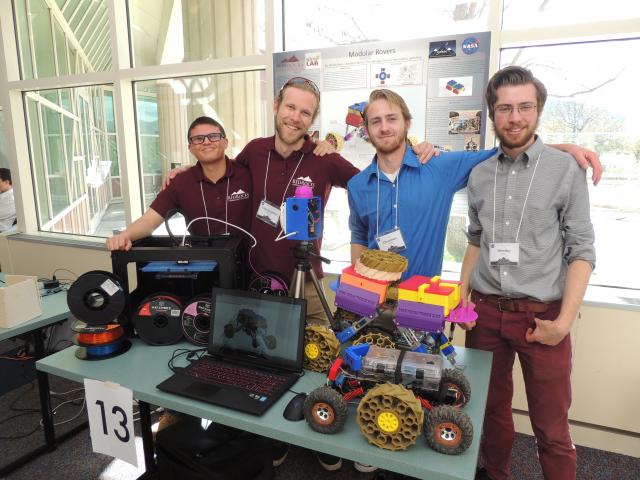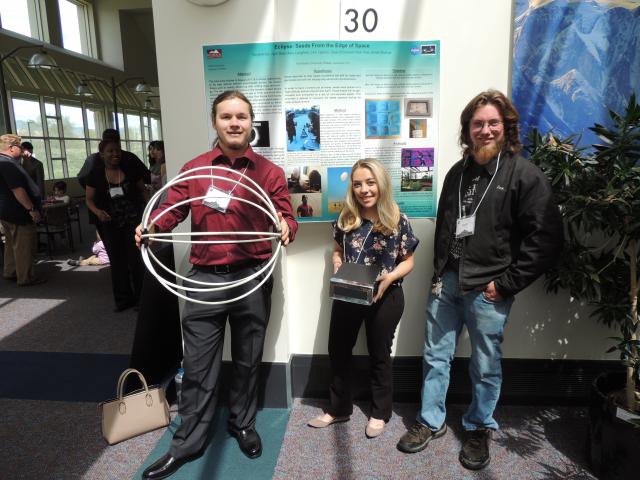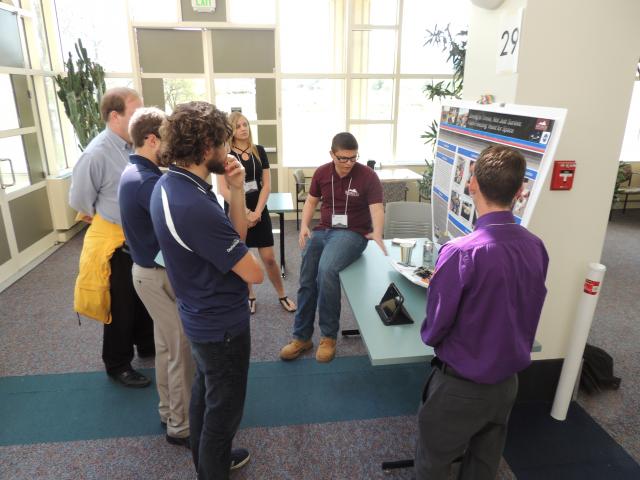 Total Solar Eclipse Team!
RRCC participated in several Eclipse projects. We were selected to be one of four schools to design and build a system to live stream the eclipse from space as part of the High Altitude Eclipse Project. We also had a RRCC team design an experiment to be launched during the eclipse to expose seeds to Martian-like conditions and then grow the seeds in simulate Martian soil after exposure. We also flew a bacteria panel for NASA Ames Research Astrobiology program. We all experienced the total eclipse and did science in Guernsey, WY. It was amazing for all involved.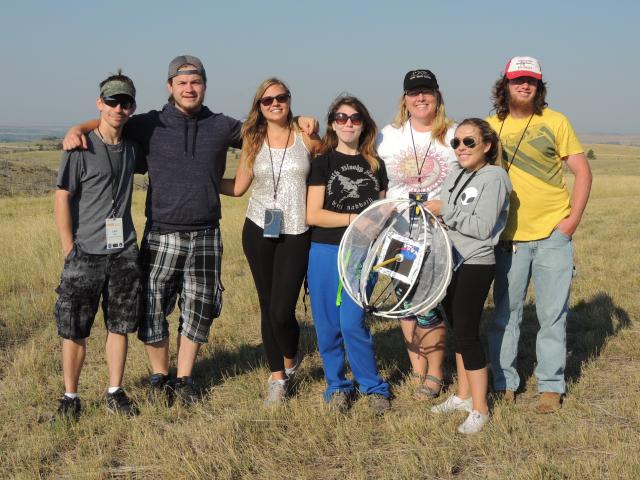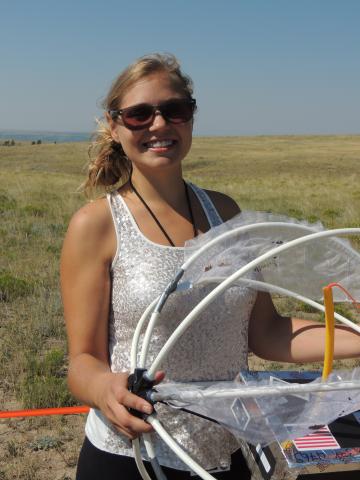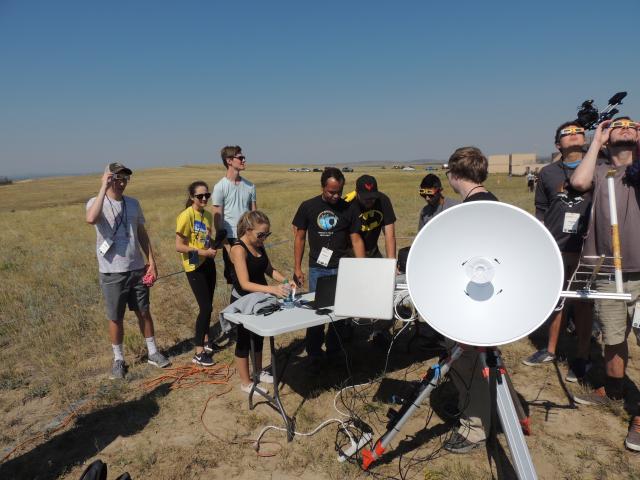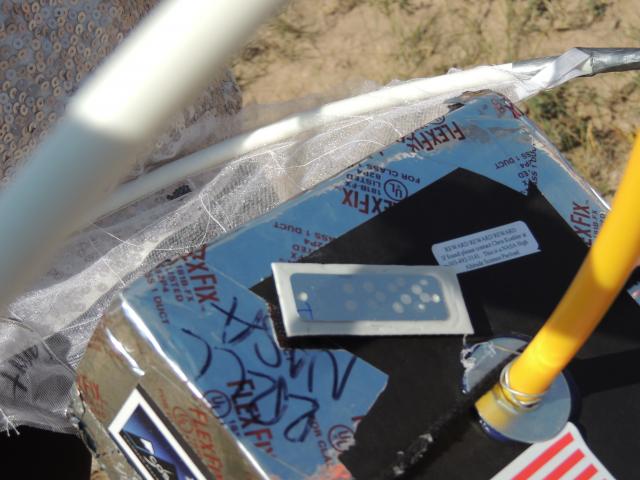 Highlights from 2015-2016 Space Grant Teams
Last year was very exciting. We had a DemoSat launch, a robotics team and a RockSat team. 
Our Demosat team designed a two pronged experiment. They tested the viability of different 3D printed materials as well as tested the microbial viability of samples sent up to high altitude.


Our robotics team designed a very unique robot that competed at the Colorado State Robotics Challenge in April 2016. As you can see from the photo, there were some unexpected blizzard conditions, but our robot did great! The team even won the "perseverance" award for the Challenge. Great job team!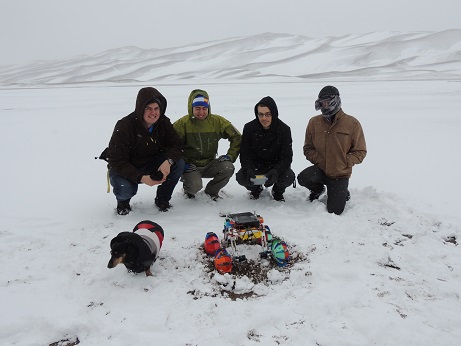 Space Grant students meet with Congressman Purlmutter

RRCC student winners at the COSGC Symposium: Best Poster demo by Shelby Ryan and Melissa Breathwaite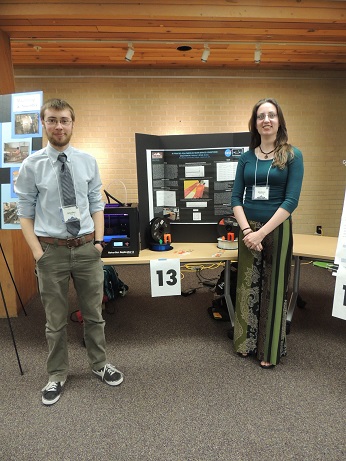 Our students also participated in an Inter-collegiate team to design and built a rocket payload. Our team launched their payload into space from Wallops Space Flight Facility in Virginia. It was an amazing opportunity for all involved. The payload tested a muon detector, carbon fiber radiation shielding, and DNA viability during spaceflight.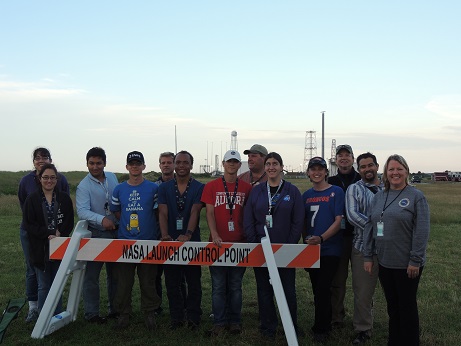 Highlights from 2014-2015 DemoSat Team
In 2014-2015 RRCC formed the first DemoSat team who designed an astrobiology themed project for their edge of space research. The team designed a unique DemoSat flight package, obtained permission from the National Park service for collection of the microbial mats from Bad Water, CA, and devised a unique approach for studying the microbial community response to edge of space conditions focusing on viability studies and DNA probe analysis. Students launched their payload in April 2015, complete with four biological samples mounted for exposure. The balloon flight was two hours and reached a maximum altitude over 90,000 ft. Students presented their research results at local and national conferences.
Interested in joining the 2015-2016 DemoSat group? Send an email to barbra.sobhani@rrcc.edu