Reflexology Program
Welcome to the SRC Reflexology Program!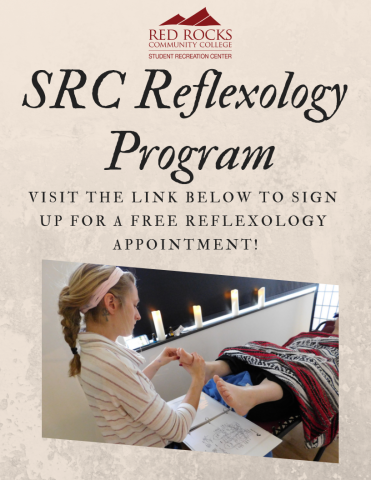 What is Reflexology? Reflexology is the application of pressure to areas on the hands or feet. Reflexology is generally relaxing and may be an effective way to alleviate stress.
The Student Recreation Center is proud to offer free reflexology sessions to fee paying members (only). This program is a unique collaboration with the RRCC Reflexology Program to help promote wellness through offering stress reduction programs on campus.
 
Fall 2019 Reflexology Schedule To Be Determined... Please Check Back For Updates

When Scheduling A Session, Please Keep The Following In Mind: 
You may schedule for multiple sessions throughout the semester, however, you are expected to be present to all sessions unless you provide at least a 24 hour notice of cancelation or to reschedule.
You are not allowed to schedule more than one (1) session per day. With limited available sessions, please be courteous to others who may be interested in sessions.
You may be taken out of your scheduled sessions for the semester if you no-call, no-show to two (2) or more consecutive or non-consecutive sessions.
You may also be taken out of your scheduled sessions for the semester if you cancel or reschedule a session(s) with less than 24 hours notice for two (2) or more

 consecutive or non-consecutive sessions.

You will receive a confirmation booking email to the email address you provide. This email will come from 'youcanbook.me.' This email also has a link for your to cancel and or reschedule your appointment(s). 
The SRC Reflexology Program is very popular so sessions book fast! Therefore, we would appreciate advanced notice on any canceled or rescheduled sessions. This will allow the program to reach out to and schedule students on a waitlist for sessions.
Before and After Reflexology Your Session:
Note: If you have any cuts, bruises, open skin wounds, fungi, or any other infections on the hands and or feet, you may be asked to cancel and or reschedule your appointment for a later date.
Ensure feet and hands are clean and free of any dirt, sweat, or oils.
Massaging trigger points on hands and feet may cause some drowsiness. Please express caution while driving or operationing any vehical or machinary for at least 24-hours after your session. 
The student reflexologist has a right to end or refuse any session without reason, at any time.
This Is Your Healing! Please practice open communication with your reflexologist regarding your wants and needs from the session(s). We are not 'miracle workers' and can only assist you in your healing journey if you verbally express your needs in advance. 
As a guest, you have the right to reschedule your appointment with another reflexologist (if available) if necessary. We want to ensure that we balance all energies between clients and student practitioners.
Experiencing a 'Healing Crisis'? Please visit this link for helpful tips: What is a Healing Crisis?
We Want To Hear From YOU!
Had sessions with us? Please click on the link to take a 2-minute survey so we can better serve you: 
SRC Reflexology Program Client Feedback/Satisfaction Survey
For all other inquires, please contact us at src@rrcc.edu
---
We Look Forward To Serving You!