US-Brazil Connect


US-Brazil Connect Fellowship Program
Partner Website Information Document
www.us-brazil.org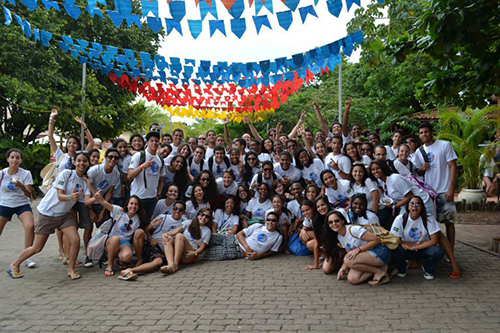 Dear Red Rocks Community,
On Sunday, June 16th, Red Rocks students and instructors will be departing for Salvador, Bahia, Brazil for a month-long service-learning project in conjunction with US-Brasil Connect. The college is in its second year of partnership with this organization, providing wonderful opportunities Red Rocks college students and Brazilian high school students.
Our RRCC Fellows will be coaching high school students living in Salvador in English language acquisition. They will be working with selected students five days a week, facilitating relationships and learning opportunities that have already initiated through the medium of Facebook. Our students have been working and preparing for this since March.
They completed a rigorous application/interview process and have enrolled in 9 additional credit hours of Sociology and Communication courses. These hours are in addition to the loads they were carrying in the Spring semester. A requirement of the program was that they spend 2-4 hours per week engaging their Brazilian students in English language learning through Facebook. Our students spent far more than their required time; it was usually 6-9 hours a week. They also attended Saturday workshop sessions to prepare for their month in Salvador.
All of us who have worked on this program are very proud of our college's efforts and the hard work our students have done to prepare for their journey. We would like to especially thank Michele Haney, Ron Slinger, Lisa Fowler, Fulya Marsh, Charis Tatman, Judy Luhman, and Johnna Jaynes for their work in making this venture possible. Our pillars of strength have been Shyrel Smith-Hosseini and Linda Yazdani who have contributed knowledge, wisdom and untold amounts of energy to implementing this program.
We will be sharing our journey with Red Rocks in a series of weekly updates and on July 23rd at 6:00 pm, the students will be presenting a capstone of the work they have done in Salvador. It is our belief that this is why the community college concept is so important; we are guiding motivated students to become global citizens. We know you will be as proud of them as we are. A video has been included for your viewing pleasure.
Sincerely,
Merri Mattison, Sally Stablein, Maryann Touitou
Vamos para Brasil! from Mary Gershwin on Vimeo.
Program Overview
This program encourages strong student fellowship candidates who have the drive and desire to thrive in the US-Brazil Connect Fellowship Program. The US-Brazil Connect Partnership for Skills Program links US Fellows and Brazilian technology high school students in a transformative cross-cultural learning experience. Selected Fellows prepare for and serve in a coaching and facilitation role designed to create a fun English immersion environment for Brazilian high school students. US Fellows build skills in global leadership, explore Brazil, and create life-changing relationships.
US-Brazil Connect Fellows serve as ambassadors of their colleges and come from a wide range of disciplines.  Fellows receive lodging, meals, local transportation and a stipend in exchange for their program leadership. Scholarships are available.
Discover Your Future
It's not study abroad, a tour, or typical travel to Brazil. It's a challenging and rewarding fellowship, providing a deep experience in the real world of global leadership. You do not need to speak Portuguese. You must be prepared to work hard, solve problems in unfamiliar surroundings, overcome cross-cultural and language barriers, and contribute to building a supportive community.  You represent your college and community and will gain:
Knowledge and in-depth experience of Brazil:  You learn about Brazil, the world's 6th largest economy, through study prior to departure, intense interaction, a weekend workshop, and a 4-week immersion in Brazil. Students from all disciplines are encouraged to apply.
 
Learn and practice global leadership skills in action: You participate in a paid fellowship, serving as a coach, mentor, and facilitator to a group of 12-15 Brazilian high school students who are studying to enter technical fields and who need practice and exposure to native speakers to improve their English. You receive support and training for your role as a tutor and coach. Online tutoring and coaching using Facebook is for 8 weeks prior to travel and 8 weeks after you return. Travel to Brazil is for four weeks in June/July 2013.
 
Immersion, global leadership, critical thinking, problem solving: True global leadership begins with direct experience of living, working and learning outside the United States.  You will work and live in Brazil for a 4-week period of intense interaction and learning with Brazilian students. Fellows from our 2012 program report the experience does more than build skills and knowledge about Brazil—it inspires leadership, character development, self-discovery and service. 
Connections, networks and community: You will build new networks, create relationships and see first-hand how global trends in innovation and technology are reshaping the world. 
The application process is designed to identify participants with high potential as authentic leaders, effective agents of change, problem-solvers, and dedicated team builders.
Students from all disciplines are encouraged to apply for next Spring 2014 (stay tuned for details).  Outstanding Fellows in 2013 came from a wide range of disciplines including computer science, visual arts, engineering, education, and pre-law.
For more information, contact Linda Yazdani at linda.yazdani@rrcc.edu or 303-914-6536
Why Brazil?
Brazil is emerging as a key economic player globally.  Ten years ago, economists identified four countries that were poised to emerge as major economic forces in the global economy:  Brazil, Russia, India, and China.  At the time, these "BRIC" countries were contributing 16% of the world's gross domestic product growth.  Since the global crisis of 2008, this figure has soared to 45%.  Today, Brazil is the world's 6th largest economy. Per-capita income is nearly twice that of China. 
Brazil's rise is expected to continue. The World Cup in 2014 and the 2016 Olympics are estimated to attract investments of roughly $550 billion between 2011 and 2014. In 2007, oil deposits below a layer of salt in the Atlantic Ocean were confirmed to hold enough oil to turn Brazil into one of the world's top five crude oil producers.
Most importantly, from 2003 to 2008, over 27 million people in this country of 200 million have moved from poverty into Brazil's middle class. Due to the increasing purchasing power of a growing middle class, Brazil is projected to become the fifth largest consumer market by 2030 when it will be worth over US$2.5 trillion, ahead of the UK and France. Brazil is already the world's third largest market for mobile phones, the fifth largest for vehicles and computers, and the eighth largest for higher education.
Given the emerging role of Brazil as an economic power, a cultural leader, and a source of innovation and creativity, it is imperative that higher education institutions prepare students for meaningful engagement with Brazil. The US-Brazil Connect Partnership for Skills Program, of which the Fellowship opportunity is a part, provides this specific, substantive experience for students in order to develop global leadership skills.
Brazilian Partners
The US-Brazil Connect Partnership for Skills Program is supported by a very strong institutional partner in Brazil, the Confederation of Industry (CNI). The Confederation is the preeminent Brazilian business association, with over a thousand employer associations in all 26 states of Brazil. Supported by a 2.5% payroll tax, the Confederation operates the SENAI and SESI education and training system which comprise the largest technical training network in Latin America, enrolling over 7 million students annually in 797 schools and technical institutes throughout Brazil.
The CNI is investing in this partnership as a means to support education for technology students, thereby strengthening the Brazilian workforce to meet the demands of a rapidly growing economy. The implementation partners, SENAI and SESI, provide all the necessary coordination and logistical support on the Brazilian side. In addition, their support covers accommodation, food, local travel and a stipend for all US-Brazil Connect Fellows.
What do US-Brazil Connect Fellows do?
Participate in a hybrid online and in-person program that prepares you to travel to Brazil. The program emphasis is on Brazilian history, culture, and growth, as well as leadership development, teamwork, and developing Fellows' skills as ESL coaches. The Fellows Weekend Workshop is an essential component of the preparation period.
 
Serve as an online tutor and coach to help Brazilian students use their English, working 4 hours/week with 12-15 selected Brazilian technology students for 16 weeks (April-June and 8 weeks after trip).
 
Travel to Brazil for a 4-week paid fellowship. June or July dates, to be confirmed by end of January. Teams will be placed in one of the following cities: Recife, Maceio, Salvador, Rio, Florianopolis, Belo Horizonte.
 
In Brazil, US-Brazil Connect Fellows interact with their Brazilian students 4 to 6 hours per day, leading project-based groups, facilitating interaction of small groups, and working as a collaborative team member with other Fellows and team leadership. US-Brazil Connect Fellows also participate in an in-depth learning experience focused on Brazil's rise globally and explore the local region.  Housing in a local hotel, food, and local transportation are provided at no cost to Fellows.
 
Return from Brazil and continue online communication and support of Brazilian students.  Upon your return, you will also give back in support of your college's commitment to global education through speaking, writing or other service.
If you are accepted, you should be prepared to participate in extensive preparation before the trip.  Once on the ground, the month-long experience in Brazil is intense and challenging.  All participants should expect a full and demanding schedule during their time in Brazil.
What are the benefits and costs for US-Brazil Connect Fellows?
Stipend: US-Brazil Connect Fellows earn a stipend of $550-$650 (depends on exchange rate) towards in-country expenses in Brazil, payable upon arrival in Brazil.
 
Lodging and food provided for the month in Brazil: The program hosts, the Brazilian Confederation of Industry and the school of SESI and SENAI, support fellows by providing local accommodations at a hotel and meals for the 4 weeks in Brazil.
 
Internship credit
 
Scholarships: The Benjamin A. Gilman International Scholarship Program is sponsored by the U.S. Department of State and provides scholarships for undergraduate students studying abroad. In 2013, there is a strong emphasis on study in Latin America. To learn more about this opportunity, visit http://www.iie.org/en/Programs/Gilman-Scholarship-Program.
 
Student Contribution:  Thanks to generous support from sponsors and donors, costs to US-Brazil Connect Fellows are generously subsidized. There are no program fees.  Total travel costs are estimated at $2100 for airfare to Brazil, insurance, and visa.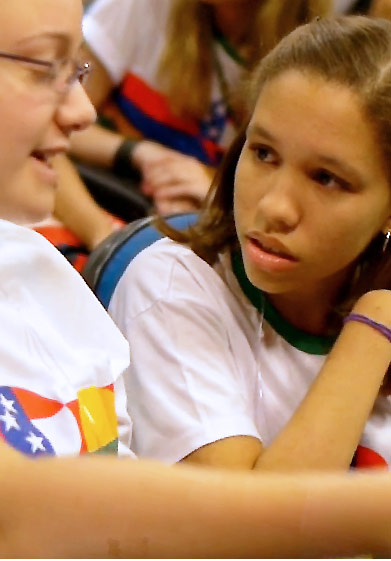 See photos and video of past trips at https://www.facebook.com/usbrazilconnect.org
For more info, go to www.us-brazil.org