Who We Are
Welcome to Water Quality Management Technology
We offer a variety of classes, certificates, and degrees to meet the various Colorado water careers. Completing courses in our comprehensive program provides job growth, exposure to new career opportunities, and guidance on creating sustainable water quality practices.
Every student that has graduated from the Water Quality Management Technology department will surpass competencies making them ready for a career in the industry. Click here for the Student Competencies.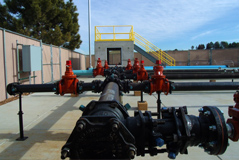 The Distribution Training Lab provides Colorado's most advanced hands-on water distribution training to teach students about the intricacies of distributing safe drinking water.
Environmental Training Center Slideshow
This state-of-the-art facility was designed to provide more hands-on learning with new classrooms that incorporate solar tubes and light shelves to naturally light them, and an expanded parking lot.