Water Quality Management
State Operator Exam Deadline
The next application deadline for state operator's exams is July 1st!
Visit https://www.ocpoweb.com/index.cfm for application and more information.
Want to prepare more? Register now for fall preparatory classes.
Learn more about our courses here!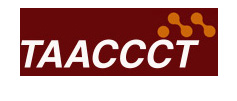 Many WQM activities are supported by one or both of the following grants:
The National Science Foundation's Advanced Technological Education (ATE) program under Award No. 0903055.
Any opinions, findings, and conclusions or recommendations expressed in this material are those of the author(s) and do not necessarily reflect the views of the National Science Foundation.
Trade Adjustment Assistance Community College and Career Training – U.S. Department of Labor (TAA).
"This product was funded by a grant awarded under the President's Trade Adjustment Assistance Community College and Career Training Grants as implemented by the U.S. Department of Labor's Employment & Training Administration. The information contained in this product was created by a grantee organization and does not necessarily reflect the official position of the U.S. Department of Labor. All references to non-governmental companies or organizations, their services, products, or resources are offered for informational purposes and should not be construed as an endorsement
Red Rocks Community College is committed to diversity in its people and programs. The College is an equal opportunity educational institution and does not discriminate on the basis of disability, race, creed, color, sex/gender, sexual orientation gender identity, religion, age, national/ ethnic origin, pregnancy status, veteran's status, genetic information, physical or mental disability, or any other category protected by applicable law, in its employment practices or educational programs and activities.
RRCC has designated the Executive Director of Human Resources as its Affirmative Action Officer/Equal Opportunity Administrator/Title IX Administrator with the responsibility to coordinate its civil rights compliance activities and grievance procedures. For information, contact Bill Dial, Executive Director of Human Resources, Title IX Coordinator, Title VII/Equal Opportunity Coordinator, ADA/Sec 504 Coordinator, 13300 West Sixth Avenue, Lakewood, Co 80228. 303.914.6298, bill.dial@rrcc.edu. Click here for more info.