Business: Associate Degrees and Certificates
You can do anything with an associate degree in business—lead a team of professionals, become a real estate agent, or even start your own company. RRCC's progressive business curriculum features faculty with real-world experience teaching the practical application of business principles. Choose from flexible learning formats: classroom, hybrid, or online, so you can earn your business associate degree on your own time. Contact an advisor from this program here. RRCC can transfer to many public four-year colleges or universities.
---
New for Fall 2017!
Non-Profit Pathway Certificate 
RRCC has partnered with Community First Foundation to create a comprehensive experience in non-profit management. Join us in the Fall 2017 semester as we introduce the first two courses, at our Arvada Campus, of a 16-credit certificate which includes experiential learning. This semester's featured non-profit courses are: BUS 175-240 Intro to Non-Profit Organizations, which is a 7-week hybrid course (classroom and online experience) running 8/24/17-10/5/17. Complete the semester with BUS 176-240 Non-Profit Program Design, Evaluation, and Decision-making running 10/12/17-12/7/17. Courses are taught by seasoned, non-profit professionals. Learn more about our new Non-Profit Pathway Certificate here!
Social Media for Business (MAR 155)
Learn how to master social media for your business!  This new online course will provide you with the tools and insights to make social media work for you.  Topics include ethical and legal concerns for business, how to develop a social media plan, set goals, develop content, find your target market, and much more. Log on to The Rock to register now!
---
About the Business Program
---
Entrepreneur Center
Experience innovation and develop your entrepreneurial spirit at Red Rocks Community College!  The Entrepreneur Center at RRCC is a business development and project development resource available to students and alumni of the college.
Learn more about the RRCC Entrepreneur Center
---
Change through Challenge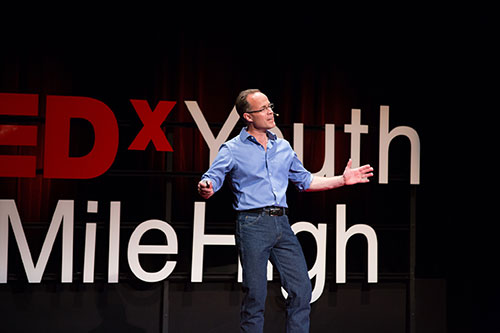 What's the best business education? Run a marathon! Andrew Johnston, a GRIT and Business faculty member, can teach you a simple, yet powerful approach to help you stay in school and acquire the life skills to succeed in the business world. Take a look at Andrew Johnston's TEDTalk and learn more about the Change through Challenge (MAN 150) course here. 
---
Business Degree and Certificates

(Click here for more info.)
Associate of Arts in Business (designated degree). This AA Business Designated Degree will transfer seamlessly to Colorado public colleges or universities.
Associate of Applied Science
Accounting - Accounting Paraprofessional
Accounting - Accounting Technician
Business - Interdisciplinary
Business - Management and Supervision
Business - Real Estate
Accounting - Fundamentals Certificate
Accounting - Bookkeeping Clerk
Accounting - Accounting Clerk
Business - Foundations Certificate
Business - Leadership Certificate
Business - Management and Supervision
Business - Real Estate (Broker)
Business - Registered Appraiser
Business - Small Business Startup
Career Paths: What Can I Do With a Business Associate Degree?
Accounting
Finance
Insurance
Real Estate
Entrepreneurship
General Management
Human Resources
Non-Profit
Small Business Owner
Marketing
Guaranteed Transfer
In collaboration with Colorado 4-year schools, Colorado has developed a statewide guaranteed transfer program called "gtPathways" to create seamless transfer. Click here for a list of courses that are guaranteed transfer to any Colorado public college or university. Click here to see the degrees that transfer seamlessly to Colorado public colleges or universities.  Also take a look at our transfer guide.
Tuition Savings
Starting at RRCC makes cents! At about half the cost of a four year university  you will complete all of your general education requirements for the bachelor's and can take electives geared toward a specific major. By the time you finish your four-year degree you will save a significant amount of money versus attending the first at RRCC and transferring. See current tuition rates and savings here.
Quality Faculty and Small Class Size
At RRCC, we have qualified and accessible faculty with real-world experience, whose primary responsibility is teaching. Our faculty care about our students' success, and with an average class sizes of less than 20 students, you will never be lost in a crowd at RRCC!
Scheduling Options
We offer many scheduling options to fit your busy life so you can complete courses on a more flexible time frame.
Why Choose RRCC?
Deciding where to start your college education is a big decision. Whether you are earning a degree, brushing up on career skills, or seeking life-long learning, you will enjoy an environment of inspiration and support. It is our goal to create an experience that will enrich your life educationally, professionally, and personally to help you succeed!