Communication Studies and Speech-Language Pathology and Audiology Programs at Red Rocks Community College
This program specializes in both Communication Studies and Communication Disorders.
Communication Studies
The field of Speech and Communication helps one to develop oral and written communication skills. Critical thinking, problem solving, interpersonal skills and presentation skills are some of the concepts addressed. This program provides basic preparation leading to communication-related careers in organizations and corporations dealing with education, business, public service, tourism, journalism, public relations, politics, broadcasting and sales.
Effective communication skills are integral to career success. Employers listed communication skills, a strong work ethic, teamwork skills, initiative and interpersonal skills, in that order, as the top characteristics they look for in new hires. * The courses offered within the Communication Studies discipline aid students in the development of these vital characteristics.
*Job Outlook 2008 Survey by the National Association of Colleges and Employers (NACE)
Speech-Language Pathology & Audiology
The US Bureau of Labor Statistics estimates there will be an increase in this field. Individuals who have been employed in these fields have been able to earn in excess of $73,000 per year. Employment of speech-language pathologists and audiologists is expected to grow rapidly because the expanding population in older age groups is prone to medical conditions that result in speech, language and hearing problems.
Red Rocks Community College (RRCC) is the first community college in the state of Colorado to prepare students to enter the field of Speech-Language Pathology or Audiology. In the spring of 2005, RRCC signed an articulation agreement with the University of Northern Colorado. This articulation agreement allows a student to enter the University of Northern Colorado's Speech-Language Pathology or Audiology Programs as a junior once the students had successfully completed an Associates of Arts Degree with an emphasis in Communication Disorders at Red Rocks Community College.
Whether an individual wants to pursue a degree in this new program or become educated about language development in children, or hearing loss in the aging population, the exciting program offers an array of classes. Classes for this new Communication Disorders program will be offered this spring at the Lakewood campus. Also, online leveling classes are currently being offered.
Ten-Day Communication Classes (Multiple Course Formats Available)
New: All Speech courses now have a COM prefix (formally SPE prefixes). Only the prefix has changed. The course content and numbers are the same.
We offer multiple formats for our courses, including hybrid, online, weekend and condensed courses.
Red Rocks Community College 23rd Annual Persuasive Speech Competition
On Saturday, May 3, 2014, the Communication Department and the RRCC Student Government hosted the Red Rocks Community College 23rd Annual Persuasive Speech Competition from 10:00 a.m. until 2:30 p.m. in the Community Room at the Lakewood campus.  Seventeen students who had successfully completed Public Speaking classes within the past year showcased their public speaking skills in this dynamic persuasive speech competition.  The first place winner of the RRCC competition was Logan Adams with her speech titled, "Asking For It".  Logan was the winner of several prizes including a certificate for a three credit course at RRCC, thanks to our Marketing Department.  All the competitors were awarded various prizes and each received a certificate of completion.
Logan Adams took her winning speech to compete in the Denver Metro Speech Competition.  The Denver Metro competition was held on Friday, May 9th at Front Range Community College.  Students from five community colleges from around the Denver metro area competed in this event including students from FRCC, ACC, CCA, CCD and RRCC.  Logan placed fourth overall in this competition with the winning speech being delivered by a student from FRCC.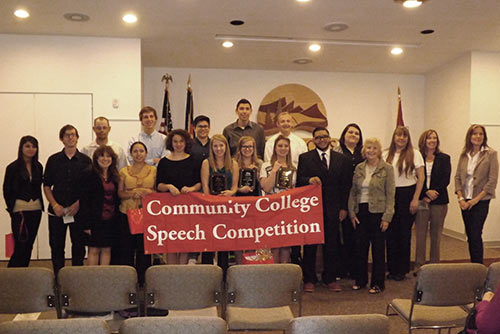 RRCC Students Attend Rocky Mountain Communication Conference
RRCC students (below) attended the Rocky Mountain Communication Conference in Loveland on Saturday, April 20. This is an annual communication conference in which undergraduate students, graduate students and professors from Colorado, New Mexico, and Wyoming colleges and universities present papers on pertinent communication topics. At this conference, RRCC students had the opportunity to listen to numerous presentations that related to this year's conference theme, which was "Doin' It With E's: Extreme, Electoral and Electronic Communication." They were also able to network with students and faculty members from other colleges and universities. The RRCC students provided positive feedback about their worthwhile experiences at this educational event.