Sociology at Red Rocks Community College
Six credits and three classes combined into this amazing trip!
Civil Rights Road Trip: May 2015, Visit Washington, DC, Birmingham, New Orleans, Memphis. Click here to view flyer.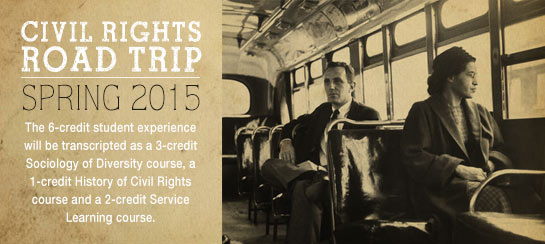 Our program
Sociology is the systematic study of the cultural, institutional, and interactional forces that shape the everyday lives of individuals. Historically, sociologists have primarily concerned themselves with "knowledge production" rather than "knowledge application." In the recent past; however, there has been a shift in emphasis to the application of sociological knowledge in society and the workplace.
As more employers have come to recognize the value of a liberal arts education in sociology, there has been a corresponding growth in applied sociology undergraduate and graduate programs. Sociology courses at Red Rocks Community College, therefore, are geared towards the acquisition of sociological knowledge, the practical application of that knowledge, and the development of a "sociological imagination."
Red Rocks Community College offers an Associate of Arts Degree with an emphasis in Sociology, which can be used as a good foundation for a future Bachelor's Degree at any of the major colleges and universities in the state. In order to avail students a greater opportunity to accomplish those ends, a variety of learner-centered formats are employed. In addition to the traditional 16 week format, we offer our courses On-Line, Self-Paced, evenings, condensed and through the Weekend College.
Contact an advisor if you would like to know more about sociology at Red Rocks Community College. Sociology is located at the Lakewood campus. We are always available during regular hours. Call for an appointment.