STEM at RRCC
STEM stands for science, technology, engineering and math. At RRCC, those subjects come together through hands-on learning opportunities. Interested in meeting students studying STEM @ RRCC? Participate in activities organized by the STEM Resource Center. And be sure to check out the STEM student clubs!
STEM Resource Center @ RRCC
Develop friendships with students who share similar academic and career goals; find support for your learning; and gain confidence in STEM!
The STEM Resource Center provides mentoring support, career development and learning support for students interested in math, engineering and science with the goal of transferring to a four-year institution. Through the STEM Resource Center you will find:
Mentoring from professionals in STEM
Peer mentoring
Academic and career advising
Transfer assistance
Workshops
Organized group study
Field trips
Gain real world experience in STEM through hands-on projects.
Courses in the spotlight:
IDEA – Introduction to Design and Engineering Applications. A two-course sequence that introduces students to design, engineering and sustainability through a real world project. Students will work with engineering and industry partners. IDEA I and IDEA II are 1.5 credits each. More about IDEA.
Scholarships for IDEA I and II for 2013-2014 are generously provided by the Xcel Foundation.
BIO 221 Botany. 
Students research, design grow beds, cultivate and manage the aquaponics system in the RRCC Greenhouse. Food harvested through aquaponics is given to the RRCC cafeteria. Fall semesters only.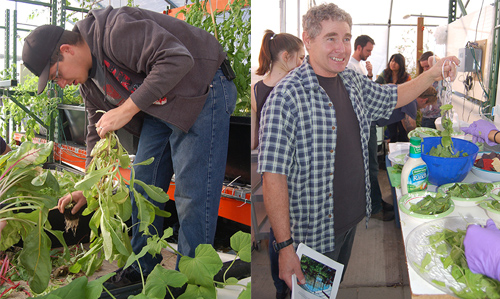 Get engaged – Join a Student Club in STEM!
Check out the Engineers for a Sustainable World Club or the Math Club organized through Student Life.
Learn about upcoming events in engineering through the Engineering Club Facebook page.
STEM Departments @ RRCC:
Engineering Transfer
Engineering Graphics
Computer Technology
Science
Math