Theatre Arts & Dance
About the RRCC Theatre Department
RRCC has the only fully developed Theatre Arts program in performance, production and theatre technology in the State of Colorado.   Our program offers courses leading to an Associated of Arts in Theatre Arts, and an Associate of Applied Science in Theatre Technology and certificates in Stagehand Basics, Stagecraft, Costume Basics, and Costumes & Fashion. In addition, we also engage in numerous partnership projects and classes, both on campus, and within the community.
The courses offered through the program emphasize training and hands-on experience in all facets of theatre, including performance and technical work. These classes are taught by working, theatre professionals who share their talents and expertise in the classroom as well as within the community at-large. Completion of the coursework is also appropriate for students pursuing an advanced education in Theatre Arts or teacher certification at a four-year institution.
The production aspect of RRCC Theatre Arts has consistently presented high quality performances (including an award winning productions in 1992, 1996, 2002, 2003, 2010) featuring students, staff, faculty and members of the community. These RRCC Theatre Arts productions were selected as Featured Showcases in the regional five state competition offered through the Rocky Mountain Theatre Association. In addition, RRCC Theatre Arts productions have received critical acclaim in the Rocky Mountain News and the Denver Post, as well as other newspapers in the Denver Metro area.
Check out our newest brochure for the Theatre Arts & Dance department!
Audition Notice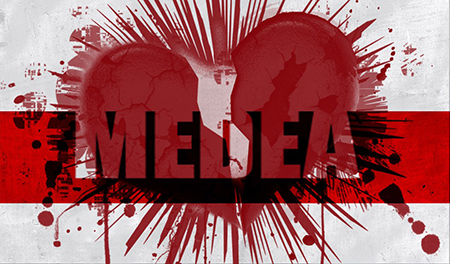 Directed by Gene Kato
Auditions are in the Red Rocks Community College Theatre
13300 West 6th Avenue, Lakewood, CO 80228
Room 0503
Audition Dates:
Either Day: Wednesday, January 28 or Thursday, January 29 at 6:30 PM.
Call 303.914.6458 for appointment
Callbacks are scheduled for Friday, January 30 at 6:30pm
Performances scheduled for April 11, 12, 13, 17, 18, 19
Cast Needs:
Nurse - Medea's old nanny from her homeland
Pedagogue - or child-minder, a slave who tends the children
Medea - refugee from Colchis, former princess, former wife of Jason
Creon - King of Corinth
Jason - refugee, former husband of Medea, recently married to Creon's daughter
Aigeus - King of Athens, passing through Corinth
Messenger - a slave of Jason
Chorus - Corinthian Women
2 Boys - Children of Medea and Jason, non-speaking characters
Audition Guidelines:
A prepared one-minute dramatic monologue preferred; cold readings will be available. Prepare for improvisation.
Community members welcome.
Please address any questions to 303.914.6458 or Kelly.Eldredge@rrcc.edu
Why RRCC?
Guaranteed Transfer

Tuition Savings

Personal Attention
Check out the great classes offered for theatre and dance courses! Click here to view. (Choose "theatre" or "dance" when prompted for subject.)