Theatre Arts & Dance
About the RRCC Theatre Department
RRCC has the only fully developed Theatre Arts program in performance, production and theatre technology in the State of Colorado.   Our program offers courses leading to an Associated of Arts in Theatre Arts, and an Associate of Applied Science in Theatre Technology and certificates in Stagehand Basics, Stagecraft, Costume Basics, and Costumes & Fashion. In addition, we also engage in numerous partnership projects and classes, both on campus, and within the community.
The courses offered through the program emphasize training and hands-on experience in all facets of theatre, including performance and technical work. These classes are taught by working, theatre professionals who share their talents and expertise in the classroom as well as within the community at-large. Completion of the coursework is also appropriate for students pursuing an advanced education in Theatre Arts or teacher certification at a four-year institution.
The production aspect of RRCC Theatre Arts has consistently presented high quality performances (including an award winning productions in 1992, 1996, 2002, 2003, 2010) featuring students, staff, faculty and members of the community. These RRCC Theatre Arts productions were selected as Featured Showcases in the regional five state competition offered through the Rocky Mountain Theatre Association. In addition, RRCC Theatre Arts productions have received critical acclaim in the Rocky Mountain News and the Denver Post, as well as other newspapers in the Denver Metro area.
Check out our newest brochure for the Theatre Arts & Dance department!
Here are the latest issues of our student newsletter:
The Basement: Theatre Arts & Dance Department Newsletter - May 2015
The Basement: Theatre Arts & Dance Department Newsletter - April 2015
The Basement: Theatre Arts & Dance Department Newsletter - March 2015
COMING SOON!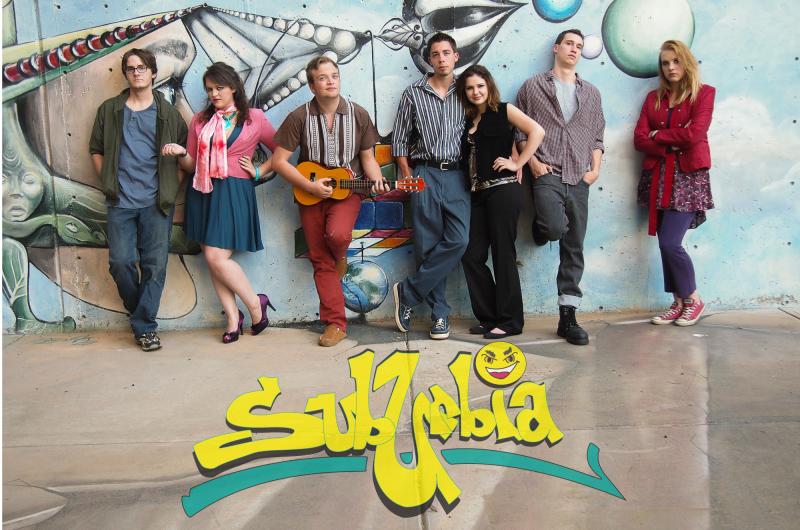 Theatre Arts and Dance Department is proud to present the gritty drama SubUrbia, by special arrangement with Dramatists Play Service, Inc., and under the direction of David-Matthew Barnes. This limited engagement begins July 9, 2015 at Red Rocks Community College.
SubUrbia, by Eric Bogosian, tells the story of a group of 20-something slackers, who spend their nights hanging out in front of a convenience store, and their reunion with a high school classmate who made it big as a musician. SubUrbia premiered at the Mitzi E. Newhouse Theater of the Lincoln Center Theater in 1994, and the production won a 1994-1995 OBIE Award. Written as an adaptation of Eugene O'Neill's The Iceman Cometh, this play is frighteningly appropriate today in its reflection of racism in particular.
Performances
July 9, 10, 11, 12 at 7:30 pm  Matinee July 12 at 2:00 pm
Red Rocks Community College Theatre
13300 W 6th Ave, Lakewood, CO 80228
Tickets
$10
FREE to RRCC Students who pick up a voucher from Student Life
Reservations
Call: 303-914-6458
Email: theatre@rrcc.edu
Why RRCC?
Guaranteed Transfer
Tuition Savings
Personal Attention
 Check out the great classes offered for theatre and dance courses! Click here to view. (Choose "theatre" or "dance" when prompted for subject.)