Water Quality Management Technology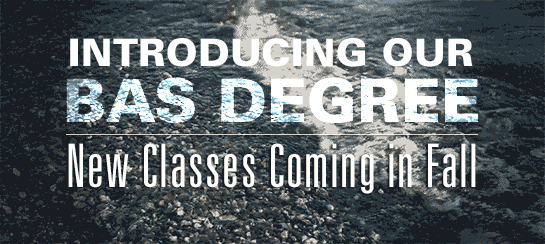 Water is critical to life and trained professionals who can help create a more sustainable water future are increasingly in demand. The Water Quality Management (WQM) program trains people to solve the mounting global water crisis. WQM is for those who want to make a positive impact on their world while developing valuable job-ready skills. We are housed in a state of the art facility – The Environmental Training Center – which boasts numerous hands-on learning laboratories. Here you will find staff dedicated to career counseling, tutoring, and subject-specific advising. Small class sizes and adjunct faculty with real-world experience contributes to student success.
The Water Quality Management (WQM) Department periodically hosts info sessions as an interactive way to provide information to students about the entire WQM program with an emphasis on the Bachelor of Applied Science (BAS) degree. In order to enroll in the BAS program, attending an info session is required before you can register. The AAS Degree and Certificates are also discussed during the session and there is time for subject specific advising afterwards.  If interested in attending an info session, please contact Summer Waters summer.waters@rrcc.edu.
Next Info Session and Drop-in Advising:
August 8th from 2:00-4:00 PM
Environmental Training Center
13302 Fox Run
Lakewood, CO 80228
Mission Statement:
The mission of the Water Quality Management Technology program is to prepare students for successful employment in the diverse water industry by providing hands-on, active, and applied curriculum created with industry partners.
Get Connected
Interested in our Water Quality Management Technology program? Fill out this form and we'll contact you!
---
Red Rocks Community College is committed to diversity in its people and programs. The College is an equal opportunity educational institution and does not discriminate on the basis of disability, race, creed, color, sex/gender, sexual orientation gender identity, religion, age, national/ ethnic origin, pregnancy status, veteran's status, genetic information, physical or mental disability, or any other category protected by applicable law, in its employment practices or educational programs and activities.
RRCC has designated Arnie Oudenhoven as its Affirmative Action Officer/Equal Opportunity Administrator/Title IX Administrator with the responsibility to coordinate its civil rights compliance activities and grievance procedures. Report all concerns or complaints relating to discrimination or harassment to the Title IX/EO Coordinator(s). For information, contact Arnie Oudenhoven Executive Director, HR, Title IX Coordinator, Title VII/Equal Opportunity Coordinator, ADA/Sec 504 Coordinator, 13300 West Sixth Avenue, Lakewood, Co 80228. 303.914.6298, arnie.oudenhoven@rrcc.edu Go here for more info on our sexual misconduct policies.