Water Quality Management Technology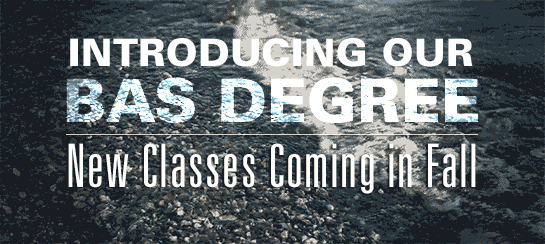 The Water Quality Management (WQM) Department periodically hosts info sessions as an interactive way to provide information to students about the entire WQM program with an emphasis on the  Bachelor of Applied Science (BAS) degree. In order to enroll in the BAS program, attending an info session is required before you can register.  The AAS Degree and Certificates are also discussed during the session and there is time for subject specific advising afterwards.  If interested in attending an info session, please contact Summer Waters summer.waters@rrcc.edu. Drop-in advising for AAS students is available with Chelsea Campbell, Lead Faculty, during normal office hours on Mondays and Wednesdays from 3-6 PM in ETC 5107. You can reach her by email at Chelsea.Campbell@rrcc.edu
Upcoming info session dates:
The Water Quality Management Program is hosting a series of Drop-In Advising Sessions.  Stop by to speak with WQM staff, discuss career opportunities, and make a plan for your future. Bring transcripts or your S#. If possible, please send us an email at rrcc.wqm@rrcc.edu and let us know you are planning to attend.
Upcoming Events:
April 11th WQM Fall Registration Event
Get signed up for fall classes in the
Water Quality Management (WQM) program
4-6 PM in the ETC
April 25th Bachelor's of Applied Science Party
Celebrate our second year of BAS graduates
Learn more about WQM degrees and careers
1-3 PM in the HUB
Mission Statement:
The mission of the Water Quality Management Technology program is to prepare students for successful employment in the diverse water industry by providing hands-on, active, and applied curriculum created with industry partners.
Get Connected
Interested in our Water Quality Management Technology program? Fill out this form and we'll contact you!
Get your first pick with class schedules now! 15 week, online, and condensed classes available!
Red Rocks Community College is committed to diversity in its people and programs. The College is an equal opportunity educational institution and does not discriminate on the basis of disability, race, creed, color, sex/gender, sexual orientation gender identity, religion, age, national/ ethnic origin, pregnancy status, veteran's status, genetic information, physical or mental disability, or any other category protected by applicable law, in its employment practices or educational programs and activities.
RRCC has designated Arnie Oudenhoven as its Affirmative Action Officer/Equal Opportunity Administrator/Title IX Administrator with the responsibility to coordinate its civil rights compliance activities and grievance procedures. Report all concerns or complaints relating to discrimination or harassment to the Title IX/EO Coordinator(s). For information, contact Arnie Oudenhoven Executive Director, HR, Title IX Coordinator, Title VII/Equal Opportunity Coordinator, ADA/Sec 504 Coordinator, 13300 West Sixth Avenue, Lakewood, Co 80228. 303.914.6298, arnie.oudenhoven@rrcc.edu Go here for more info on our sexual misconduct policies.
Advanced Manufacturing Careers in Colorado
Visit our Advanced Manufacturing online hub for details on specific career pathways in these high-demand fields.