Welcome to RRCC Arvada Campus
The Arvada Campus, which lies just north/west of the intersection of I-70 and Kipling, is known for its innovative and flexible scheduling options to fit a wide variety of needs.
Whether you are interested in one of the Health Science programs, looking to earn an Associate's degree or looking to take a general education core course for transfer, the Arvada Campus is the place for you! The Arvada Campus offers a one-stop-shop student support resource desk offering Admissions, Advising, Financial Aid and much more.
Health Programs housed at Arvada Campus
Nurse Aide, Home Health Aide, Hospice Care Aide, Massage Therapy, Yoga Instructor, Radiology, Sonography and Holistic Health are health-related programs we offer.
Students pursuing RRCC Arvada Campus Health Programs will learn from instructors who are practitioners in their respective healthcare fields and are trained to provide instruction that focuses on cultural competency, care for the aging patient, and mental health awareness.
The Learning Commons is the centerpiece of the building, housing the computer commons, assessment, online support, library services, tutorial services in math writing and basic skills, free computerized pre-GED testing, career resources, study areas and Internet access. Students can receive advising, register for classes and receive financial aid information in one convenient location.
Call 303.914.6010 for additional information.
                        

NEW!
Student Employment Opportunities 
Click below to expand each area.
 Campus News
Governor approves $10 million for Red Rocks Arvada campus expansion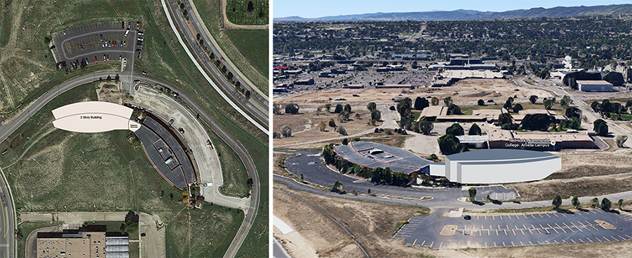 Arvada's Campus featured on the Today in America with Terry Bradshaw!
 Need transportation to our campus?
 Registering for classes at the RRCC Arvada Campus
Need help completing your FAFSA?
Arvada Campus Calendars (events and closures)
Programs specific to our campus in Arvada


Click here to see slideshow.