Welcome to RRCC Health Sciences at Arvada
The Red Rocks Community College Arvada campus is home to RRCC's Health Sciences programs, as well as an associate degree and general education courses that transfer to four-year institutions. 
Whether you are interested in one of the Health Science programs, looking to earn an associate degree or looking to take a general education core course for transfer, our Health Sciences at Arvada campus is the place for you! The campus offers a one-stop-shop student support resource desk offering Admissions, Advising, Financial Aid and much more.
RRCC Arvada Campus Courses
In addition to our numerous health care programs, we offer many ​Guaranteed Transfer courses at the Arvada campus such as Biology, English, History, Humanities, Psychology and Math.
Take a look at the full list of Academic Programs offered at our Arvada campus here.

Detour/Construction Information 
CURRENT DETOURS (Please check back periodically as construction continues)
During construction of the RTD FasTracks Gold Line, road access to the Arvada campus may be altered. Please note the items below and refer to RTD's interactive road map for detour information.
RTD UPDATE  - Gold Line serving Arvada
New RTD Trains Coming this Summer – Stay Safe Around Commuter Rail
Safety is the number-one priority of the Regional Transportation District (RTD). This summer, new commuter rail trains will be running along the B Line to Westminster (approximately 71st & Lowell) and the G Line through Arvada to Wheat Ridge.
Though RTD light rail and commuter rail share similarities, such as being powered by overhead electric wires, they are two very different technologies. It is important for students, parents and faculty to understand how to stay safe around this new train system. Below are some key safety messages to learn and share with your friends and family.
·         Never touch or throw objects at the overhead wires – they are powered with 25,000 volts AC and can be deadly.
·         Use designated pedestrian areas when crossing a track – other areas are considered trespassing and are extremely dangerous.
·         Follow safety signs and warning devices, such as flashing red lights and gate arms.
·         Pay attention and look both ways for a train — you may not hear them coming.
·         Stay off the train station platforms until they are open to the public.
·         Once stations are open, stay back from the platform ledge and behind the yellow warning strip.
For more information, visit www.rtd-denver.com or call Katie Angell at 303-518-4143.
CURRENT DETOURS (Please check back periodically as construction continues)
SERVICES CURRENTLY RELOCATED TO:
5400 Miller Street, Arvada, CO 80002
Beginning May 17, 2016
Please see PDF calendar below for full campus hours including holiday closures.
General Education Courses available at the RRCC Arvada campus
General education courses are taught specifically at the Arvada campus as well. Learn more about Arvada Gen Ed courses.
Health Sciences Programs housed at the Arvada campus
Learn more about Health Sciences courses at Arvada.
Students pursuing RRCC Health Sciences programs will learn from instructors who are practitioners in their respective healthcare fields and are trained to provide instruction that focuses on cultural competency, care for the aging patient, and mental health awareness.
Take a look at the full list of Academic Programs offered at the Arvada campus here.
Call 303.914.6010 for additional information.
Click below to expand Arvada campus news.
 Campus News
Governor approves $10 million for Red Rocks Arvada campus expansion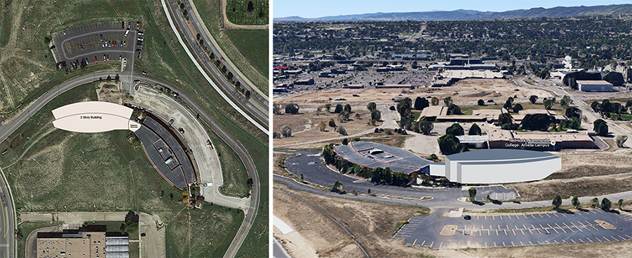 Located northwest of I-70 and Kipling Street, the campus is undergoing a large expansion, to be completed by Fall of 2016, which will allow us to meet the growing health care needs of our community. A new building will provide state-of-the-art instructional space for health sciences, enhanced curriculum for inter-professional education across healthcare programs, room for expanded enrollment, and new programs in step with industry demands.
Arvada's Campus featured on the Today in America with Terry Bradshaw!
Need transportation to our campus?
Don't Miss the Bus!
RTD is now stopping at the RRCC Arvada campus. Click here for directions to the campus or visit RTD's website and enter Route 100 for details. You can also use RTD call-n-Ride which is a curb-to-curb transportation service.
Registering for classes at the Arvada campus
If you are planning to take a class (traditional or online) at this campus, you go through the same process as signing up for classes at our main campus. Visit our Admissions page to view the registration process.
Need help completing your FAFSA?
Visit the Financial Aid site for more information.


To directly register, once you have applied, go to The Rock (your student portal). Use it to access registration tools, online courses, your schedule, calendar, financial aid info and much more.
Arvada Campus Calendars (events and closures)
SUMMER 2016 Semester 

---


Click here to view a slideshow of the RRCC Arvada campus.