Earn a degree in multimedia and graphic design for digital and traditional media
Why should you take get your graphic design and print production education at RRCC?
The Graphic Design/Print Production emphasis within the Multimedia Graphic Design Department prepares you to work in the creative environments of graphic design and printing. You will develop designs for electronic production for both digital and traditional press. In addition, you will learn design techniques for packaging and point of sale and other forms of print media. Printing press technology is also addressed.
The mission of the Multimedia & Graphic Design department at Red Rocks Community College is to provide students with relevant and real world training in media and design production through use of current technical, creative, and software trends to prepare students entering the commercial arts workforce.
Multimedia Graphic Design AAS Degrees
Multimedia Graphic Design Certificates
---
A great career should be fun! Learn multimedia and video from working professionals.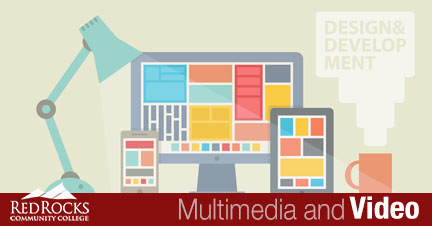 Cost - By completing all or part of your journalism education at RRCC you avoid starting your career with a crushing amount of debt. For what you might pay for a semester at a major university you can nearly obtain a degree at RRCC.

Timeliness - Because our program is small we are able to adapt quickly to ongoing developments in the profession. While major universities may take years to create or alter course curricula, we are able to integrate Twitter, YouTube and other media components in courses as they enter the profession.

Personal attention - Many large universities offer courses with hundreds of students. Students have almost no interaction with their professors. At RRCC we offer personal attention to each student to help with planning and success in their education.

Equipment - Our computer labs, video and photo gear are state of the art and allow students to pursue their education using equipment that is used in the industry. This makes them competitive from the day they graduate.
Click here for more details of required courses.
MGD Location
The Multimedia Graphic Design department is located at the Lakewood campus on the lower level of the west end.