Career Success Center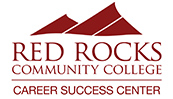 Red Rocks Community College (RRCC) is committed to helping students succeed in their pursuit of a quality education, including assistance in developing a career plan. Your Career Success Center at RRCC provides current students, alumni, and community members with individualized career counseling and coaching, employment resources, career assessments and job search skills assistance. We work with students of all backgrounds and identities, including marginalized communities, to locate safe and inclusive work environments and achieve career success.
Investigate this site to learn more about yourself, find applicable career options, and research occupational information through Exploration; learn how to gain more experience through Experiential Learning; and tap into our Employment Services to become more competitive for hire upon completion of your educational goals.
RRCC Graduates go on to do great things with their education! Check out our monthly featured Student Success story to see what Student Success looks like at RRCC:
Hi, my name is Josh Adams and I'm a Geologist.
The company I work for is called WSP USA Inc.
What kind of work do you do?
I do a full spectrum of environmental consulting work but I specialize in soil and groundwater remediation. Typically we help oil & gas companies clean up soil and groundwater following a spill or release of various types of hydrocarbons or other compounds that are environmentally hazardous. We accomplish "clean-up" by conducting investigations to determine the extent of impacted soil and groundwater and also identify the major constituent(s) that need to be treated. After we have a good understanding of the size and type of contamination we deploy various technologies and methods to remediate the contamination. 
Environmental consulting typically requires you to have a wide variety of responsibilities and expertise. I talked about remediation above but some other things I do are: 
Mapping of known natural methane seeps (walking around the forest looking for natural gas coming out of the ground) 
Working with local, state, and federal regulations and compliance
Generating GIS maps
Asbestos surveys and asbestos air monitoring
Construction oversight for CDOT and transportation projects
Natural Spring sampling and Domestic water well sampling
General health and safety oversight
Drilling and monitoring well installation
What was your major/pathway at RRCC?
When I arrived at RRCC, I really didn't know what I wanted to do. I stumbled into an intro geology class my second semester at RRCC not knowing what it entailed. Turns out geology was my passion and that quickly became my pathway.
Do you like your job?
I do enjoy my job, although at times it can be demanding and stressful. One of the most satisfying parts of my job is knowing that I am helping protect the environment I live in and the people in my community. 
Did school prepare you for this, or were there any classes that help you be successful at this job? 
There are a lot of things you learn on-the-job that you would never learn in the classroom. That being said, my education is the foundation that I have built my career off of. Without my education I would have never got the job I have now and I still use the tools and concepts I learned during my undergraduate almost everyday in my job. The classes that apply the most to what I do were: Composition and Technical Writing, hydrogeology, geologic engineering, interpersonal communication, and physics. 
Do you plan on staying in this career, or moving on to other things in the future?
I have no plans on switching my career path but who knows what the future will bring!
Any other fun things you want to include about yourself and your career!
The best part about my job is that I get to live in the beautiful Durango, Colorado (also where I finished my degree) In southwest Colorado my outdoor life is pretty active. Lots of mountain bike riding, snowboarding, horseback riding, fishing, and hunting. I currently have 4 dogs, 3 goats, and 2 horses (we have an animal problem). 
---



RRCC Disclaimer: The appearance of external hyperlinks does not constitute endorsement by Red Rocks Community College of the linked web sites, or the information, products or services contained therein. All links are for information purposes only and are not warranted for content, accuracy, or any other implied or explicit purpose.