Career Success Center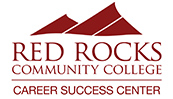 Red Rocks Community College (RRCC) is committed to helping students succeed in their pursuit of a quality education, including assistance in developing a career plan. Your Career Success Center at RRCC provides current students, alumni, and community members with individualized career counseling and coaching, employment resources, career assessments and job search skills assistance. We work with students of all backgrounds and identities, including marginalized communities, to locate safe and inclusive work environments and achieve career success.
Investigate this site to learn more about yourself, find applicable career options, and research occupational information through Exploration; learn how to gain more experience through Experiential Learning; and tap into our Employment Services to become more competitive for hire upon completion of your educational goals.
Red Rocks Community College is now on Handshake, the leading job board platform!
We are excited to announce our transition to a new platform to connect students and graduates to career opportunities. Handshake is the #1 way college students find jobs.
Students and Graduates
Students now have exclusive access to Handshake, the #1 career platform! Click here to watch a video to learn more. Check our website for more information about info sessions to learn how to navigate the platform, search for career opportunities, post your resume, attend events such as virtual and in person Career Fairs, and more! Log in using your S-number. If you are a graduate and would like access Handshake, just create an account using your email and request to access Red Rocks Community College.
Employers
Join us on Handshake! Click here to create an account and get started posting job openings and events, and connecting with students. If you're already on Handshake, just look for our school. We approve connections within three (3) business days.
Questions?
Email us at rrcc.careerconnect@rrcc.edu. 
Student Success
This is what #CareerSuccess looks like at RRCC!
Meet Deke Letson: Co-Founder/Executive Director of Veterans Expedition Therapy (V.E.T.)
What kind of work do you do?
We are a nonprofit organization that connects veterans and their families with the outdoors to improve their quality of life and reduce social isolation by using wilderness and adventure. 
What was your major/pathway at RRCC?
AAS in Outdoor Education
Certificates: Outdoor Professional, Wilderness Therapy Specialist, Outdoor Industry Business/Management, Small Business/Entrepreneurship
Do you like your job?
Absolutely love it.
Did RRCC prepare you for this?
It wouldn't have ever happened had it not been for the RRCC Outdoor Program! While working on my Outdoor Industry Business/Management, Small Business/Entrepreneurship certificates, they made us make a "hypothetical business" that taught us everything we needed to know to get a business started. Shortly into the semester, after hearing my business idea, some of the instructors started pulling me aside telling me that I really have something going and that I should seriously consider actually making this happen. I built a business plan and started receiving coaching from Deb Kulscar (outdoor program instructor), who really helped me and gave me the confidence that I can do this! I began all our business filings to start up a legal nonprofit organization and we just launched V.E.T. yesterday (7/31/22) and have trips on the schedule to start taking veterans out on epic expeditions! Sally Cirincione (outdoor program director) and her attention to detail, constantly pushed us to do our best and gave us absolutely every tool you could ask for to succeed! Even during the incredibly hard times life can throw at everybody.
Do you plan on staying in this career, or moving on to other things in the future?
Yes! All the way until the day I take my last breath!
Any other fun things you want to include about yourself and your career!
I have to say the biggest thing about all this is that this is not about me at all, it's about helping veterans and their families deal with the side effects of military service, and we are here for veterans to show them that there is a reason to wake up tomorrow! Also, I do all this with my service dog Redd! (Except scuba diving and snowboarding).
---



RRCC Disclaimer: The appearance of external hyperlinks does not constitute endorsement by Red Rocks Community College of the linked web sites, or the information, products or services contained therein. All links are for information purposes only and are not warranted for content, accuracy, or any other implied or explicit purpose.