Career Success Center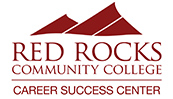 Red Rocks Community College (RRCC) is committed to helping students succeed in their pursuit of a quality education, including assistance in developing a career plan. Your Career Success Center at RRCC provides current students, alumni, and community members with individualized career counseling and coaching, employment resources, career assessments and job search skills assistance. We work with students of all backgrounds and identities, including marginalized communities, to locate safe and inclusive work environments and achieve career success.
Investigate this site to learn more about yourself, find applicable career options, and research occupational information through Exploration; learn how to gain more experience through Experiential Learning; and tap into our Employment Services to become more competitive for hire upon completion of your educational goals.
Red Rocks Community College is now on Handshake, the leading job board platform!
We are excited to announce our transition to a new platform to connect students and graduates to career opportunities. Handshake is the #1 way college students find jobs.
Students and Graduates
Students now have exclusive access to Handshake, the #1 career platform! Click here to watch a video to learn more. Check our website for more information about info sessions to learn how to navigate the platform, search for career opportunities, post your resume, attend events such as virtual and in person Career Fairs, and more! Log in using your S-number. If you are a graduate and would like access Handshake, just create an account using your email and request to access Red Rocks Community College. We will follow up to verify your account with your S#.
Employers
Join us on Handshake! Click here to create an account and get started posting job openings and events, and connecting with students. If you're already on Handshake, just look for our school. We approve connections within three (3) business days.
Questions?
Email us at rrcc.careerconnect@rrcc.edu. 
Student Success
This is what #CareerSuccess looks like at RRCC!

My name is Wayne Bryer, Production Manager and Resident Stage Manager for Curious Theatre Company
What kind of work do you do? As production manager, I am responsible for overseeing the production teams that create our shows. I hire the teams, facilitate their needs, make sure everyone is meeting their deadlines and staying within budget, and oversee the venue. The job entails a range of things and is rarely predictable. A day might include anything from changing a light bulb, to participating in an artsy conceptual meeting, to major conflict resolution. As a stage manager, my responsibility is to facilitate the rehearsal and performance process for a show. It's part technician, part performer, part support, part leader. During the rehearsal process, I learn from the director and designers how they want the show to function and I support the performers while they rehearse. Once the show is open, my job is to make sure it happens the way the director+ designers intended every time. We are also a union house, so in both jobs I liaise with our union partners to adhere to ensure we're adhering to all of their regulations.
What was your major/pathway at RRCC? I studied Theatre with emphasis in Technical Theatre while at RRCC. 
Did school prepare you for this, or were there any classes that help you be successful at this job? Yes, all of the theatre classes I took were informative for me. All of the technical theatre and design classes were my favorite and I use the skills I learned/practiced daily. Theatre is also an art that best learned by doing, so the ability to work in the shops and stage manage productions here (as part of classes as well as student employment) was paramount to my success in my career.
Any other fun things you want to include about yourself and your career! It is possible to make a living by working in the arts!



RRCC Disclaimer: The appearance of external hyperlinks does not constitute endorsement by Red Rocks Community College of the linked web sites, or the information, products or services contained therein. All links are for information purposes only and are not warranted for content, accuracy, or any other implied or explicit purpose.