Career Success Center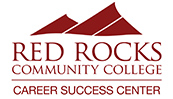 Red Rocks Community College (RRCC) is committed to helping students succeed in their pursuit of a quality education, including assistance in developing a career plan. Your Career Success Center at RRCC provides current students, alumni, and community members with individualized career counseling and coaching, employment resources, career assessments and job search skills assistance.
Investigate this site to learn more about yourself, find applicable career options, and research occupational information through Exploration; learn how to gain more experience through Experiential Learning; and tap into our Employment Services to become more competitive for hire upon completion of your educational goals.
---
UPCOMING EVENT:  Internship Fair
Tuesday, November 6th from 10:30am-1pm on The Bridge
Looking for an internship?  
Want hands-on experience in your field?  Want to earn credit towards your degree?
Come and meet with employers who have internship and research opportunities! 
Contact melissa.english@rrcc.edu for questions and resume reviews!
---
UPCOMING EVENT:  Career Conversations: Interviewing
Tuesday, November 6th from 3pm-4pm in the HUB Event Space (Room 1241)
You've won an employer over with a great resume and you've been invited to an interview!  An interview is your chance to close the deal and
get a job offer.
Learn the do's and don'ts of interviewing and sharpen your skills to land your dream job!
This special Career Conversations will be presented by Stratagem so you can get advice straight from an employer!
---
RRCC Disclaimer: The appearance of external hyperlinks does not constitute endorsement by Red Rocks Community College of the linked web sites, or the information, products or services contained therein. All links are for information purposes only and are not warranted for content, accuracy, or any other implied or explicit purpose.