Outdoor Education Program at RRCC
Be the envy of all your friends! Work in Outdoor Education!
Use your passion for the outdoors in a career that has long lasting impacts on individuals of all ages, helps to support sustainability and environmental awareness, and provides opportunities to travel all over the world! Take classes through the RRCC Outdoor Education program at RRCC.
Career Paths/Options in Outdoor Education
Field Instructor

Adventure Trip Leader

Outdoor Educator Assistant

Wilderness Guide

Associate Camp Leader

Rock Climbing Camp Counselor

Leadership and Environmental Education Program Instructor

Waterfront Counselor

Recreation Leader
Transfer Agreements
The Outdoor Education department has great opportunities for transfer! Articulation agreements for transfer to a college or university help ensure that you won't have to retake successfully completed courses or earn additional credits to enter as a junior. Coming soon, students looking to complete a four year degree can easily transfer to the schools below.
University of Alaska Fairbanks
Western State University
Metropolitan State University
Fort Lewis College
Local Area
Located at the foothills of the Rocky Mountains, Lakewood, Colorado provides an ideal location for students to learn and apply skills from the Outdoor Education department in real field settings. Being near an urban area allows easy access to hundreds of outdoor recreation retailers, open space parks, and other businesses and organizations where students work, volunteer and recreate during their time away from school. Some nearby areas of interest include:
Summit County Ski resorts – Several within 1 hour of campus
Green Mountain Open Space (hiking, biking, trail running) – adjacent to campus
North Table Mountain (rock climbing, hiking) – 15 minutes
Red Rocks Amphitheater & Open Space – 10 minutes
REI Flagship Store – 20 minutes
Bear Creek Lake Park (biking, hiking, swimming, fishing) – 15 minutes
Lookout Mountain (hiking, biking, sightseeing)
Eldorado Canyon State Park (climbing) – 20 minutes
Rocky Mountain National Park – 2 hours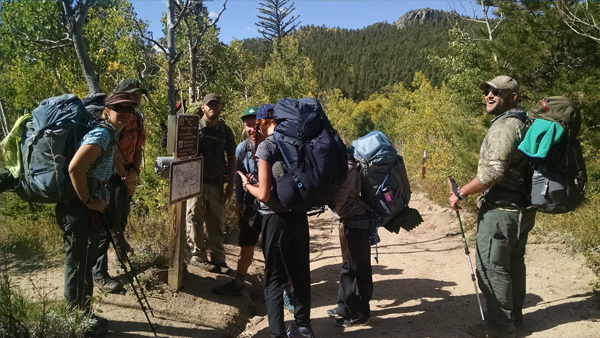 ---
Spring Semester 2017 Slideshow
Contact us today to get more information about the Outdoor Education program at Red Rocks Community College.
Follow the RRCC Outdoor Education and Park Ranger Programs on Facebook and Instagram.

Red Rocks Community College is an equal opportunity service provider and employer and operates under permit from the USDA Forest Service, Gunnison National Forest