Political Science at Red Rocks Community College
Red Rocks Community College offers an Associate of Arts Degree with an emphasis in Political Science. Political Science offers courses leading to an Associates of Arts Degree, which provides the first two years of course work towards a Bachelor of Arts. The AA and our guaranteed core courses are designed to transfer to Colorado's public four-year colleges and universities.
Offering Unique Opportunities for Hands-on Learning
In the Fall semester we offer PSC 1025 State and Local Government taught by State Representative Lois Court, who invites a multitude of guest speakers to talk about their role in our state political system.
During the Winter semester, students can enroll in Inside Colorado Legislature (course number to be determined) and experience firsthand the legislative process. The only class of its kind in Colorado, where the instructors are elected legislators and the classroom is the Colorado State Capital. The department also provides internships and a wide range of traditional General Transfer courses in Political Science. See news article.

RRCC Poli-Sci Club end of the year BBQ
2011-2012 Student Club of the Year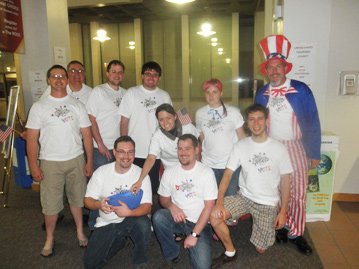 The RRCC Poli-Sci Club's first voter registration drive was a great success!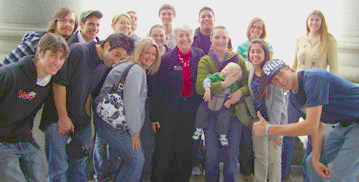 RRCC American Government Spring '09 class was invited to the State Capital by State
Representative and RRCC part-time instructor, Lois Court (center). They toured the dome
and learned more about the Colorado Constitution, the Tax Payer's Bill of Rights (TABOR),
higher education funding, and the law making process in general.