Theatre Arts & Dance
A Conservatory Atmosphere Without the Attitude
In the Theatre Arts & Dance Department at RRCC, it is our mission to provide students with expert hands-on training paired with in-depth scholarly study. We achieve this through courses offered in multiple areas of performing arts, award-winning productions, and job-skill training opportunities for students who are interested in personal enrichment or pursuing a professional career in theatre arts and dance.
We invite you to explore these web pages to discover more about our department.
Let us know how we may assist you in exploring your potential through the performing arts.
Thank you!
Kelly Jo Eldredge - Program Director and Lead Faculty
kelly.eldredge@rrcc.edu 303-914-6458
Visit us on Facebook and Twitter.       
Coming Soon!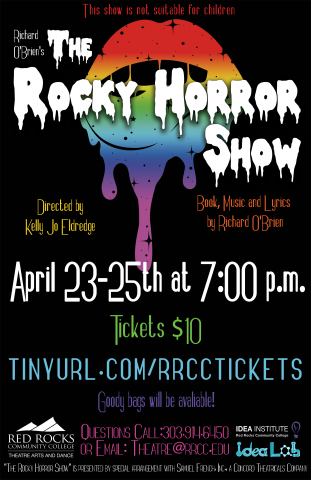 Read an article featuring Marie Welter, one of our students doing great work in the theatre world!
We're also so proud of one of our former students, Derick Ricardo Gonzalez Robles in a national Honda commercial!
Check out our new community partner, Play On! This wonderful organization provides classes and summer camps for K-12 students.