Veteran Services

RRCC named a Best for Vets College in 2019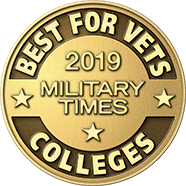 Red Rocks Community College has been selected as one of Military Times' 2019 Best for Vets Colleges!
Military Times surveys hundreds of colleges across the country each year and ranks them in the areas of university culture, academic quality, outcomes, policies, student support and costs, and financial aid. This year, RRCC is ranked 16th among all two-year colleges in the United States. 
---
Welcome
Welcome to all of our military veterans, those of you still serving, and our military families and friends. At RRCC, we appreciate and value your service to us all, and we are committed to supporting your academic and career goals.
Our Veteran Services Office is here to help you through the traditional college processes as well as provide a comprehensive overview of VA educational benefits.
---
Announcements 
The FAFSA is now available and uses tax information from 2018. We encourage students to file early, so they can receive a clear picture of their financial aid package earlier. The priority deadline to apply is Dec. 1. fafsa.gov The school code for RRCC is 009543.
Veterans Day Ceremony - Request for Submission for Our Slide Show
Did you or a family member serve in our armed forces? Would you be willing to share a picture for our Veterans Day slide show?
---
FAQ: Frequently Asked Questions
"Do you need anything else from me?" Please double-check the Get Started Here page to make sure you have completed all of the steps that apply to you. If/when we find something that we need from you, we contact you immediately. Please check your student email.
"Why does the VA say I was certified for fewer credits than I'm taking?" If you received a copy of the VA Cert email from the VA, they only tell you about the first certification submitted or updated for you for that day. Many students have more than one certification based on having different start and end dates. If we couldn't certify a class, we will tell you about it in your student email account. Please check your spam and jumk folders for an email from veteran.services@rrcc.edu.
"What do I do if I need money for books and the VA hasn't paid my book stipend?" Please fill out our Daniels Brothers short-term, interest-free book loan paperwork. Those forms are located in the Veteran Center and in the Veteran Services office on the Lakewood campus. We have a locked dropbox outside our office where we can receive those. We will call you as soon as it's approved, but it usually takes 1-2 business days to fully process.
"When will VA pay my balance?" If you are using Post 9/11 and eligible for 100% of your tuition and fees to be paid by the VA, they typically pay the month before the semester ends. If you submitted your online form by the drop date (Request for VA Certification), you will not be charged late fees on this balance. If you are not using Post 9/11 balance, please set up a payment plan to avoid late fees.
---
Military and Veteran Services
The mission of the Red Rocks Community College Veteran Services Department is to ease the transition from the military environment to the learning environment by assisting those presently serving and prior-service military members and their dependents with understanding and applying for their GI Bill®education benefits, connecting these students with on-campus and community based resources, and by creating an environment of support and community.
Services we offer are:
Connecting students to campus experts in Admissions, Advising, Financial Aid, Personal Counseling Services, Accessibility Services, Testing Services, and Career Services.
Assisting with some types of student account holds.
GI Bill® Certification.
Appointments with your School Certifying Official: "Login with your school account" and use your Rock signon. Appointments will be on the left-hand side.

Peer to Peer Mentoring and Career Mentoring

Referrals to campus and community resources.
Support and campus activities to ease the soldier-to-student transition.
Promoting camaraderie among military students through organized student veteran and military associations.
Access to Military and Veteran Student Center. A place to study, mingle and learn more about veteran-related events and resources.
Connections with off-campus Veteran Services Organizations to help ease the transition from service member to student.
---
Earn College Credit for Prior Learning
Did you know that you could receive college credit for knowledge gained through your military training and experiences? Click here to learn more!
---
Upcoming Events
 
Rockies Game, Friday, September 27 (must RSVP by Sept 20)
Veterans, fireworks, a Rockies Game? We need a headcount by September 20, please:
News
SALUTE Veterans National Honor Society scholarship application is open! SALUTE members visit the SALUTE tab for more information. 
Follow us @ https://www.facebook.com/RRCCStudentVeteranAssociation for our page or https://www.facebook.com/rrccvets/ for our group 
---
Consumer Resources
College Score Card The College Scorecard is a consumer planning tool and resource that assists prospective students and their families when evaluating colleges and universities.
The College Navigator is a consumer tool that provides school information such as tuition and fees, retention and graduation rates, financial aid, student loan default rates and features a cost calculator and school comparison tool.
The Financial Aid Shopping Sheet is a model aid award letter designed to simplify the information that prospective students receive about costs and financial aid so they can easily compare institutions and make informed decisions about where to attend school.
The Paying for College Website can be used by prospective students to enter the names of up to three schools and receive detailed financial information on each one and to enter actual financial aid award information.
---
*Red Rocks Community College participates in the Principles of Excellence, 8 Keys to Veterans' Success, and Servicemembers Opportunity Colleges. 
---
*GI Bill® is a registered trademark of the U.S. Department of Veterans Affairs (VA). More information about education benefits offered by VA is available at the official U.S. government website at http://www.benefits.va.gov/gibill.