Office of Veterans Affairs
Red Rocks Community College welcomes Veterans!
The Office of Veterans Affairs assists students with application for VA educational benefit funding and reports to Veteran Affairs on behalf of the student.
Location: Learning Commons, Room 1252
8:00 am – 6:00 pm Monday through Thursday
9:00 am – 5:00 pm on Fridays
Donna Merriman, RRCC School Certifying Officer (Note: Donna does not work for Dept. of Veteran Affairs, nor does she have access to the Veteran's Administration files.)
9:30 am – 6:00 pm Monday through Thursday
9:00 am – 5:00 pm Friday
donna.merriman@rrcc.edu
Phone: 303.914.6353 
Fax: 303.989.6919
Melodie Moll
She will be in either the Veteran Center-room 1252 or Student Records-room 1200.
8:00 am – 9:30 am Monday through Thursday
melodie.moll@rrcc.edu
Phone: 303.914.6355
Brandy Rivera
RRCC School Certifying Official - VA Tuition and Fee Billing
Located in the Business Services Offices - Rm 1164
8:30am - 5:00pm Monday through Thursday
8:00am - 4:30pm Friday
brandy.rivera@rrcc.edu
Phone: 303.914.6369
Fax: 303.914.6335
Veterans Study Lounge
Location: Library ( top floor of Learning Commons )
The Veterans Study Lounge provides a space where RRCC student veterans can study, relax, or make connections with fellow student veterans. The Study Lounge provides computer stations, wifi, printer, telephone for local calls, coffee, refrigerator, microwave and veteran-related RRCC and community resource information.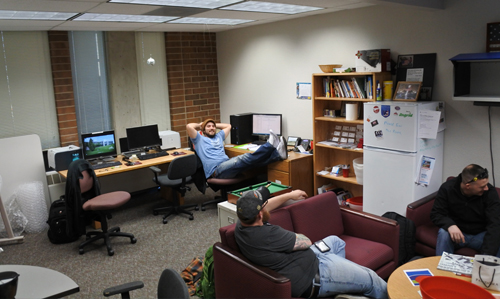 RRCC Veterans Student Club
Email: rrccvetclub@gmail.com
The club is a voice for student veterans concerns and is active in helping veterans reintegrate into academic and civilian life. The club also connects students to RRCC and community resources.

Blue Authorization/ Certification Form
Must be renewed each semeste
Must be fully complete, with Advisors initials, and Student Signature. See our sample form for further explanation: Blue Certification Form
Post 9/11 veterans are required to provide a copy of their award letter
Contact the RRCC Office of Veterans Affairs should you have any change in classes: Deployment or Training Exercises under Orders
Change of Schedule or Addition/ Subtraction of Classes
The prior credit-it is now mandatory. All veteran students must have all transcripts, including military experience, in and evaluated by the end of their first term
Red Rocks Community College was ranked in "Best for Vets" awards since 2011 and has been named a 2014 Military Friendly School®.