Recording Studio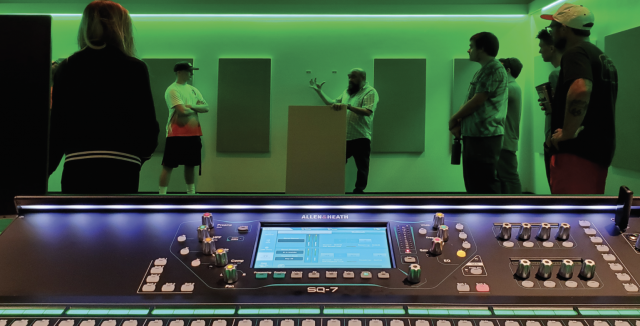 Red Rocks Community College's Recording Studio is a brand new, state-of-the art 32-track recording facility for use by students, faculty, and the wider Red Rocks community.  The acoustically treated suite and precision-tuned monitoring provide an ideal work environment for gaining technical knowledge about the recording process, and recording techniques while also allowing the engineers to hear the finest of details.
Boasting a wide selection of microphones, a good complement of outboard processing, and recording 24-bit files at a sampling rate of 96kHz, the recording studio can help musicians, voice actors, foley artists, sound designers, and producers realize the most subtle nuances of their performance.  In addition to serving the needs of the Music and Multimedia and Video Production students, the studio also supports the Theater department, the Idea Lab, and other RRCC programs.
The fully modular studio uses TT patch bays for all signal routing, allowing student engineers to gain critical experience with modular patching, while also allowing for experimentation with and manipulation of both the tracking and mixing signal paths.  Regardless of the career path within the recording industry that you choose, the recording studio at RRCC will help you to grow your skills while providing valuable real-world experience in working with the complexities of a commercial recording environment.
---
Do you need to reserve a space? Call 303.914.6613 or stop by room 0551.