Student Spaces
Are you looking for something fun to do on campus? If so, you have come to the right place! Getting involved at Red Rocks in activities that are outside of the classroom is a great way to meet people and enhance your college experience. There is never a dull moment in Student Life and no matter what your interests are, there is an activity for you.
Are you hoping to get involved in leadership development, community service, or event programming on campus? If so, joining Student Government or one of our 30 clubs may be a good fit for you.
Do you have a competitive side or are you looking to break a sweat between classes? If so, ping pong or foosball may be your speed.
The Den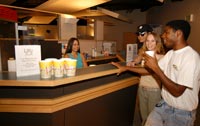 The Den offers a variety of activities for Red Rocks students. Throughout the semester in The Den, Student Life sponsors activities such as guest speakers, Anime Club, and Video Game Club. In addition to these activities, The Den hosts numerous guest speakers, special class lecturers, club meetings, and events, all of which are open to Red Rocks students and are FREE!  Check out Fox Life for Den activities.
Great Hall Gaming 
*These activities are free and only require a current RRCC student ID.
Foosball
Who doesn't love a good game of foosball...? Check out a ball at the Student Life Desk*.
Bubble Hockey
Up for a little competition? Come play bubble hockey and show your friends what you've got. Only 25 cents per game.
Table Tennis
Play on one of our table tennis tables. Check out paddles and a ball at the Student Life Desk*.
Pinball Machine
Play the Simpson's pinball machine at 25 cents per game.
Board Games
You are never too old for a good board game. Check out the following games at the Student Life Desk*.
Boggle

Checkers

Clipper VM

Connect Four

Dominos

Guess Who?

Operation

Playing Cards

Rummikub

Scrabble

Simpson's Clue

Space Chess

Sorry

Trivia Pursuit

Trouble

Twister

and much more...
Clubs
Do you want to get involved with a club on campus or even start your own club? Check out a complete list of clubs on the Student Clubs web page.
Tennis, Basketball, and Volleyball
If you enjoy a good game of tennis, volleyball or basketball and have your own equipment, the courts are all yours. The tennis courts are used on a first come basis so get out there and play! Equipment is also available at the Student Life desk for checkout.
Lakewood Student Life Desk
Monday - Friday
9 a.m. - 5 p.m.
Arvada Student Life Desk
Monday -Friday
9 a.m. - 4 p.m.
Hours may vary.
The Student Food Pantry
The Student Food Pantry is open to all RRCC students.  No need-based application required.
Open on the Lakewood Campus, Monday through Friday 9:00am -5:00pm. 
Open on the Arvada Campus, Monday through Friday 9:00am - 4:00pm
The Student Project Center
Located in Room 1551, on the West side of the Lakewood Campus, the SPC is a student-fee-funded computer lab available only to students.
Open Monday - Friday; 9:00 a.m. - 5:00 p.m.