Events and Announcements
Announcements: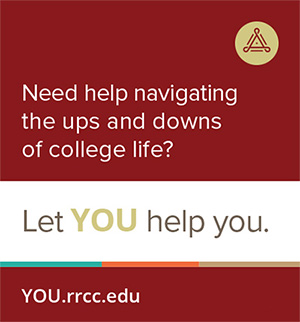 The YOU@RedRocks portal is a free resource to help Red Rocks students thrive, matter, and succeed on campus. Take a look!
Check out the Jefferson Center Wellness Calendar posted inside the for information on affordable community fitness and art classes and other wellness activities.
Check out The Road calendar posted under each month for information on Jefferson Center social events for young adults age 18-24 years old.
                      Spring 2020
 January
Mental Wellness Month
National Blood Donor Month
Thyroid Awareness Month
28th - Welcome Day Arvada Campus 11am-1pm
29th - Welcome Day Lakewood Campus 11am-1pm
 February   
9th-15th- Healthy Relationships Week
16th-23rd- Random Acts of Kindness Week
24th-March 1st-  Love Your Body Week
 March
American National Nutrition Month
National Developmental Disabilities Awareness Month
National Sleep Awareness Month
16th-22nd- Brain Awareness Week
 April
National Autism Awareness Month
National Stress Awareness Month 
Alcohol Awareness Month 
March 30th-April 1st - Alcohol Free Weekend 
march 30th-April 5th - National Drug Facts Week
7th - World Health Day
7th - National Alcohol Screening Day
20th-24th - Cannabis Awareness Week 
May
National Mental Health Month
10th-16th - National Alcohol and Drug related Birth Defects Week 
18th-24th - National Anxiety & Depression Awareness Week
18th-24th - Mental Health Week