Community Engaged Learning
Welcome to Community Engaged Learning
Community Engaged Learning seeks to foster opportunities where individuals learn about themselves and their community, take action through service, and advocate for lasting social change. This is accomplished by connecting learning to the real world through activities such as service-learning, civic action, and community-based research.  
Who we are
Mission Statement: Community Engaged Learning develops opportunities for students to engage with real world issues as part of their learning experience in a way that benefits campus and community.
Vision:  We envision a world in which peoples' basic needs are met and in which the values of equality and social justice are realized. We believe institutions of higher education have a responsibility to cultivate an engaged citizenry.  We are therefore dedicated to empowering our students and faculty to realize they have the knowledge and skills to affect positive change in their community.
Values: 
Justice
Inclusiveness
Empathy
Transformation
Engagement
Purpose:  Community Engaged learning, in partnership with the local community, seeks to foster an environment where individuals learn about themselves and their community, take action through service, and advocate for lasting social change.
What we do
Training and Faculty Assistance - We assist faculty who want to incorporate service learning into their courses.  We offer training, one-on-one consultation, and help with identifying community partners or other service opportunities that support course learning outcomes. Check out the service learning showcase for examples of service learning across disciplines.
Service Learning Showcase - Spring 2022
Service Learning is a teaching AND learning strategy that integrates meaningful community service with instruction and reflection to enrich the learning experience, teach civic responsibility, and strengthen communities. (Campus Compact)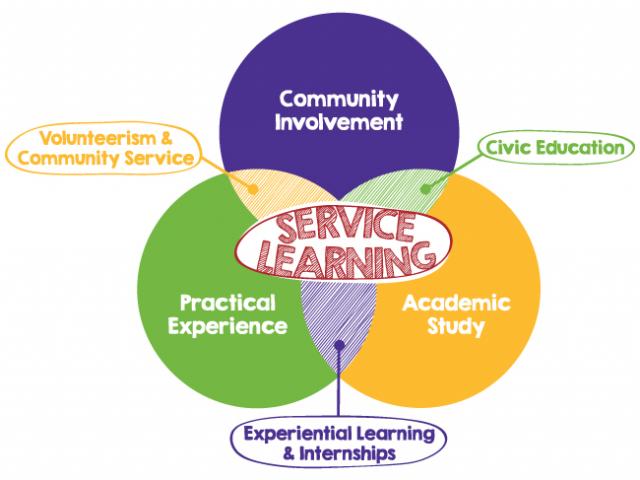 Each semester courses in various disciplines offer a service-learning experience to students. 
Community Engagement Employment Project - Beginning in Spring 2021 we are launching CEL Assistant Positions. This paid student employment opportunity will support skill building among student employees while providing a service to the college and community. Students are trained in human-centered design for social action and apply their skills to address campus or community issues and develop further opportunities for community engaged learning.
---
Get Engaged
Students can get involved by enrolling in a participating course, volunteering in the community, or becoming a Community Engaged Learning Assistant.  
Faculty can integrate a service-learning component into their course 
Community organizations can partner with the RRCC Center for Community Engagement & Service Learning.  Start by letting us know a bit more about you by submitting the Community Organization Background Information Form Here.
---
For more information check out the RRCC Service Learning Handbook