Lesbian, Gay, Bisexual, Transgender, Queer, Intersex, Asexual + (LGBTQIA+) Center

Who Are We
The Lesbian, Gay, Bisexual, Transgender, Queer, Intersex, Asexual+ (LGBTQIA+) Center at RRCC is a space for LGBTQIA+ community members and allies to come together to share resources, support, and discussion about topics relevant to the community. 
LGBTQIA+ Virtual Center on Discord
Miss hanging out, chatting, playing games, and just generally enjoying spending time with other queer and trans community members? Join our Discord server to connect with other LGBTQIA+ folks. It'll be a forum space for sharing information, chatting about life, sharing art, and talking about gaming – plus there's a voice/video chat space!
LGBTQIA+ Students, Alumni, Faculty, and Staff welcome!  Want to join? Sign up here:
https://tinyurl.com/LGBTQIACenter
When you sign up, we will send an instruction video on how to use Discord!
If you'd like to learn more first, please email us at RRCC.Inclusion@rrcc.edu
Preferred Names
If you go by another name than the legal name on file with the college, you can update this information by emailing your S#, and preferred name FROM YOUR STUDENT ISSUED EMAIL ACCOUNT to student.records@rrcc.edu.  If you're on campus, you can also go in person to student records to update this information.  Once that is complete, you will also be able to get your student ID with you preferred name on it from the Student Life Desk.
Inclusion & Diversity June Events
In-Person Event
We will be hosting an in-person event for RRCC community members to attend. I&D will host an outside get together on June 24th at 5:00-7:00pm. We will be gathering outside by the west entrance near the bookstore in the Lakewood campus. Due to COVID precautions we are limiting the number of people who can attend. Please RSVP by June 15th. If you have any questions please contact I&D at RRCC.Inclusion@rrcc.edu .
Date: June 24th at 5:00pm-7:00pm
Location: Lakewood Campus Outside by West Entrance
RSVP: https://tinyurl.com/IandDSummerFun
PRIDE 5K!
We are participating in the Denver Pride 5k. We have created a team RRCC Rainbow Red Foxes. You can register using the sign up link. All levels of participants are welcomed. Cost per participant is $40.  We have 15 sponsorships available for the first 15 students who want to join us, please contact Lorely Sanchez at lorely.sanchez@rrcc.edu for more information. When you register please make sure to select our team and let us know what time you will be there.
Date: June 26th starting at 8:00am
Team Name: RRCC Rainbow Foxes
Pride Event
After the 5k we will be going to The Center on Colfax. June 26th 11 AM to 5PM: There will be a mini-festival featuring food trucks, exhibitors, a DJ and rooftop entertainment! You can find more information on Denver Pride events on their website.
Date: June 26th and 27th, 11:00am-5:00pm
Address: 1301 E Colfax Ave, Denver CO, 80203
Virtual I&D / LSAMP Round Table:
We have rescheduled our Round Table with Rep. Brianna Titone for June 30th at 4:00-5:50pm on Zoom. She has earned her BS Geology, BA Physics, MS Geochemistry (Stony Brook), and MS Software (DU), and is committed to advocacy and acknowledging the shared humanity of all Americans in her role in the House of Representatives, representing District 27 here in Colorado. We are exited to be able to offer a Round Table with Presentation and Q&A with her, we hope you all can join us.
Date: June 30th at 4:00-5:50pm
No RSVP Necessary: Join us here https://zoom.us/j/99325469425?pwd=aktmNThOdFBjdHhkTmljbkhDOU5OUT09
Meeting ID: 993 2546 9425
Passcode: titone
LGBTQIA+ Center Hours
Monday:  8:00am - 5:00pm
Tuesday:  8:00am - 5:00pm
Wednesday:  8:00am - 5:00pm
Thursday:  8:00am - 5:00pm
Friday: 9:00am - 4:00pm
Where to Find Us
We are located in room 1237 in The HUB on the Lakewood Campus.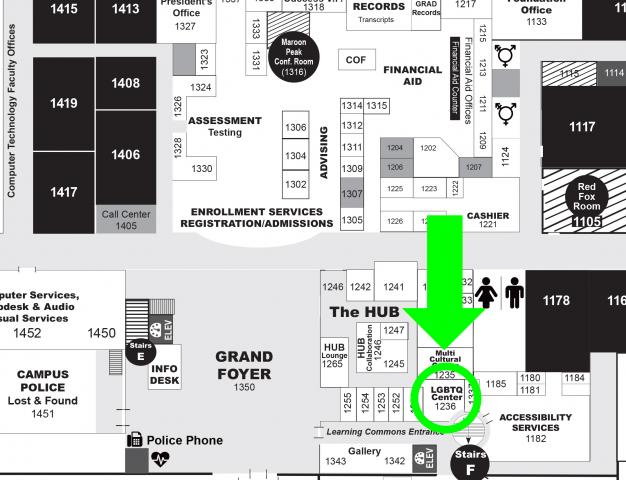 All Gender Restrooms are located at the following at the Lakewood campus:
Next to Foundations in East Building
Hallway leading to Student Rec Center
Student Rec Center has all gender lockerrooms between women's and men's lockerrooms
In Instructional Services in West Building
3rd floor of FIre Science Building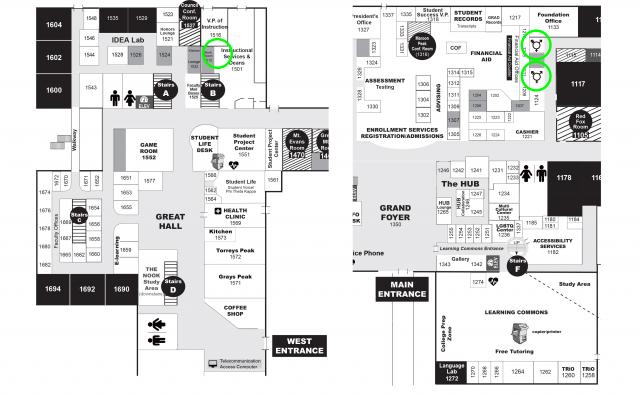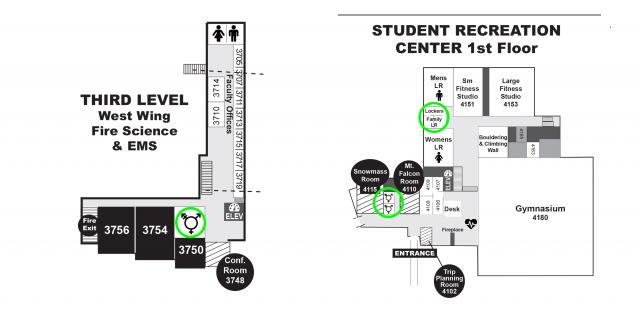 All Gender Restrooms are located at the following at the Arvada campus:
Across the hall from the Chemistry Lab (Room 9230) on the main level.
In between room 8118 and 8122 on the lower level.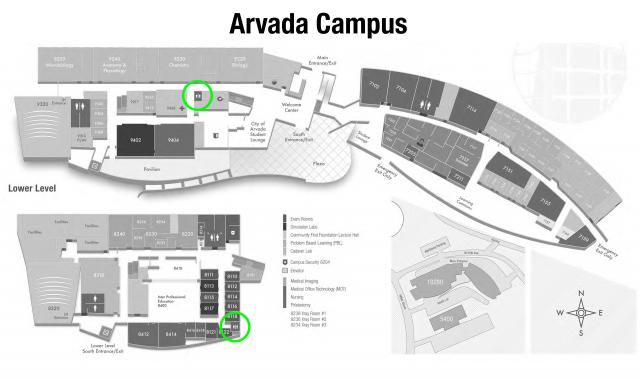 Lending Library
Resources include books, handouts, and DVDs covering:
LGBTQ+ Support
Homophobia/Heterosexism
LGBTQ+ Health
Coming Out
LGBTQ+ Pride
LGBTQ+ History
Teaching Resources
To browse some of our offerings, visit http://www.librarything.com/catalog/RRCC.GLBT.
Click here for additional resources.
Red Rocks Campus Resources
303.914.6901