D2L Self-Paced Online Orientation
How to Access D2L Open-Registration Courses
Overview:  Red Rocks Community College has several D2L Open-Registration Courses available to students, faculty and instructors. These courses are free and are intended to provide helpful information, training and resources.  Once registered, the D2L course will be listed on your D2L My Home screen immediately under the Open-Registration Course category.  Please note that some of the courses require approval from the course coordinators.  Watch a Video on How to Access a D2L Open-Registration Course here.
Steps to Register for the D2L Student Orientation
1. Login to "the rock" by going to the Red Rocks Community College Website at www.rrcc.edu.
2. Next click on the Rock icon and enter your S number and password.
3. 

On the Welcome Tab – Navigate toward the lower right portion of the screen to find the link to Access Desire2Learn and click on the link.
4. Once you have accessed D2L (Desire2Learn), click on the Self-Registration link located at the top of the screen.
5.  Find the course you want to register for and click on the link to start registering for the class.
6.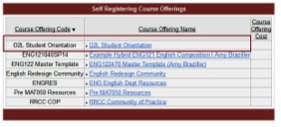 Next click Register.
7.  Verify your information and click Submit.
8. Click Finish to complete the process.
9. The course D2L Student Orientation will now be listed under My Courses under the Open-Registration Course heading.
Technical Assistance with D2L
For technical issues related to D2L please contact the 24 X 7 help desk at help.cccs.edu or 1.888.800.9198
Need Additional Assistance with D2L?
For general questions, email the eLearning department at eLearning@rrcc.edu or call 303.914.6702 from 8:00 a.m. – 5:00 p.m. M-F.  You can also visit Red Rocks Options at www.rrcc.edu/options to learn about in-person assistance with D2L, D2L tutoring, and helpful tips.