Science Department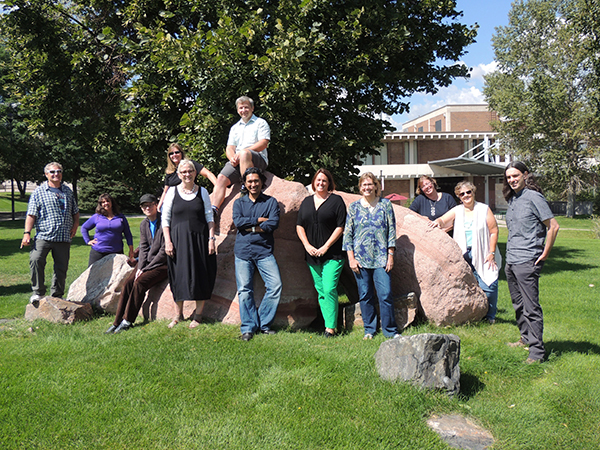 RRCC Science Department Mission
 
The mission of the RRCC Science Department is to help students become scientifically literate citizens by providing a rigorous high-quality foundation in science that emphasizes experiential learning and the development of critical thinking skills.  We foster competency and interest in the sciences for students who are planning further degrees or careers in STEM fields, those fulfilling degree or certificate requirements at RRCC, and those seeking personal enrichment.
We offer Associate of Science degrees in Biology, Chemistry, Geology and Physics as well as courses in astronomy, engineering, environmental science, meteorology, and oceanography.
These are designed not only for freshman and sophomore students wishing to fulfill core requirements for transfer to Colorado's public four-year colleges and universities but are popular "reverse transfer" destinations as well. That means many students who are already enrolled in four-year schools come to Red Rocks for these classes. Why? Smaller classes, dedicated faculty - i.e., the same instructor for lecture and laboratory work, resulting in more individualized instruction with greater continuity - and guaranteed transfer.
---
RRCC Research Expo 
In person & Virtual Symposium Spring 2022- May 4-5, 2022
Students! Here is your chance to present your research results or class projects. Abstract submissions open March 1st.
The RESEARCH EXPO is the RRCC Student Undergraduate Research Symposium. Students present their work live during the two day event on May 4-5. 2022. The event will be both in-person and virtual this year. There will be scheduled talks and poster sessions on campus on Wednesday and Thursday as part of EXPO Week. Posters will need to be printed and hung up by May 4. All virtual materials will be uploaded to the RESEARCH EXPO Virtual Student Union page. All virtual submissions must be uploaded/ turned-in by May 1st and will be available for viewing all week!
Submission options:
Live Event May 4-5
1. Talk (15 minute maximum)
2. Poster (max dimensions 24 x 36", printing available through Honors, advance notice required, watch for printing request form)

Virtual gallery May 1-6:
1. Recorded Talk - record a video presentation of your work. 15 minute maximum. Submit a captioned yuja video.
2. Video Poster presentation - record a video of you presenting your poster. 5 minute maximum. Submit a captioned yuja video.
3. Poster presentation - Poster file and written description (prepare a one page description of your poster, as if you were giving the presentation during the poster session). Submit a poster as pdf or jpg, one-pager as a doc or pdf
*poster submissions must be accompanied by one of the options above for accessibility purposes.

All submissions will be evaluated and winners will be selected for each category. All titles and abstracts will be published in a program and posted on the science website. For any questions contact Barbra.Sobhani@rrcc.edu, Tracy.Gray@rrcc.edu or Danea.fidler@rrcc.edu.  Judges: contact tracy.gray@rrcc.edu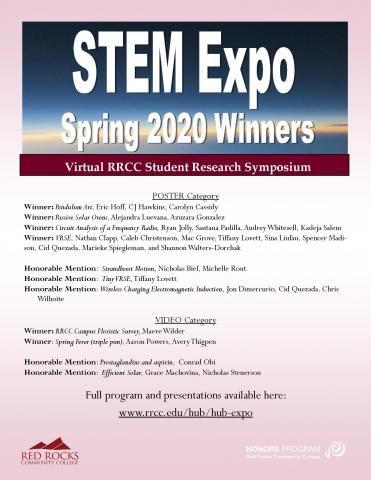 View or download tips and guidelines:
Archive:
Spring 2020 Program
Spring 2020 Winners
Fall 2019 Winners
Full program available here for Fall 2019
Spring 2019 Winners
Full program available here for Spring 2019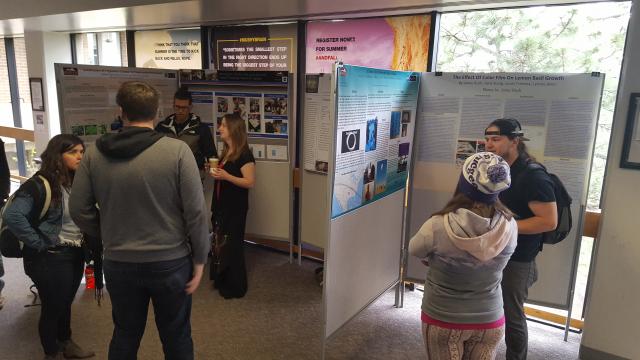 Science Expo Program Spring 2017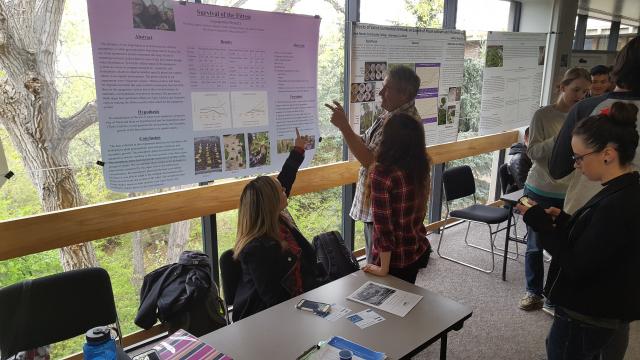 Science Expo Program Fall 2017 

---
Study Abroad 2022-2023
Details to come for trips in 2022
To find out more visit the Student Academic Travel Page