Auditions
Welcome to our Audition Page
We produce numerous main stage and studio shows a year and continually update audition opportunities.
RRCC students and community members are welcome to audition.
Upcoming opportunities and auditions:
---
AUDITIONS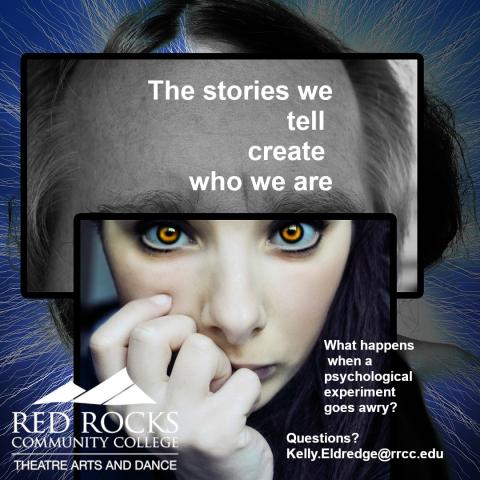 Devised Show with Red Rocks Community College Theatre Arts and Dance
Written by Colette Mazunik
Working Title: Creature/Creation/Transformation
Theme: The stories we tell create who we are.
Concept: A psychological experiment goes awry when the experiment starts becoming reality.
As a devised piece, actors will be involved in the creation of the play by participating in surveys and guided improvisation.
Audition:
Informal creative exercise. Have fun with this!
Find two or three everyday objects in your home. Examples might be a toothbrush, a pen, a remote, a dishcloth. You will use these objects as your own makeshift puppets.
In a very short video (around 1-2 minutes), use the objects to tell a story of any of the following:
A time when someone hurt you
A time when you hurt someone else
A time when someone helped you
A time when you helped someone else.
We would prefer it if you would allow the puppets to talk/emote (rather than narrating the story). This can be verbal or non-verbal. What we're looking for is that the focus and the emotion are clear.
*Ideas produced from audition videos may be incorporated into the devised play.
Here is a demo audition to give you an idea of what we're looking for with this audition.
Send the video as an MP4 file or a link (to YouTube or wherever you store the video file) to Kelly.Eldredge@rrcc.edu.
We will be accepting videos through September 4, 2020.
Performances will be November 12, 13, 14 at 7pm live streamed.
Visit us on Facebook and Instagram for Theatre and Dance
---
Questions? contact Kelly Jo Eldredge, at 303-914-6458 or email us at theatre@rrcc.edu.
Driving Directions to RRCC Theatre