Cyber Patriot
What is CyberPatriot?
CyberPatriot is the National Youth Cyber Education Program.  At the center of CyberPatriot is the National Youth Cyber Defense Competition. The competition puts teams of high school and middle school students in the position of newly hired IT professionals tasked with managing the network of a small company. In the rounds of competition, teams are given a set of virtual images that represent operating systems and are tasked with finding cybersecurity vulnerabilities within the images and hardening the system while maintaining critical services in a six hour period.  Teams compete for the top placement within their state and region, and the top teams in the nation earn all-expenses paid trips to Baltimore, MD for the National Finals Competition where they can earn national recognition and scholarship money.​
CyberPatriot is created by the Air Force Association in 2009. For more info on the program visit: https://www.uscyberpatriot.org/
Regular Season
The regular season starts in early fall and finishes in spring with the national finals. Details can be found here: https://www.uscyberpatriot.org/competition/competition-timeline
Summer Camps
2019 will be the 2nd year that Red Rock's Community College will host a CyberPatriot Summer Camp. The camp is a weeklong event that is held at our Lakewood Campus. Partnering with Red Rocks' IDEA Lab, campers will also be introduced to robotics, machine learning, AI, and virtual reality.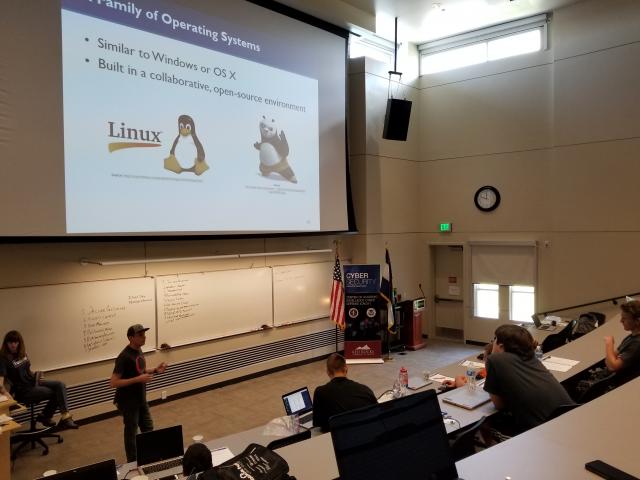 2018 CyberPatriot Camp at the Arvada Campus
Become a Cyber Patriot Mentor
Members of our community along with some of our cyber students give back by volunteering as Cyber Patriot mentors. These mentors work with local Jr. & Sr. high school students to help them develop cybersecurity skills and compete in the annual CyberPatriot competition.
For the 2018-2019 season we are working with teams from: D'Evelyn, Warren Tech, and Westminster.