Lutherie (Stringed Instrument Making)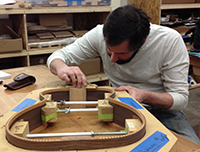 Make Music! 
Students travel the world over to learn lutherie in the Fine Woodworking Program. We offer one of the few year-round instrument-making programs in the country. Our lutherie courses train students to make, repair, and finish stringed instruments for aesthetics, comfort and acoustic quality. Whether building an electric guitar, acoustic guitar, mandolin, or ukelele, you'll develop a thorough knowledge of building and repair using essential hand tools and equipment. As you progress to more advanced classes in inlays and finishing, you'll become highly skilled in customizing design and optimizing sound on these instruments.
Learn at Your Pace
No prior woodworking experience is necessary to begin the Fine Woodworking Program. Take classes individually or as part of one of the three Lutherie certificate programs (link: https://www.rrcc.edu/fine-woodworking/degrees-certificates). Classes are offered during the day, in the evenings, and on weekends. Learn more about individual courses in the Catalog.
Learn more about our certificate and degree programs.
Lutherie Careers
Lutherie artisan
Lutherie technician
Lutherie restoration