Mathematics Frequently Asked Questions
Your Degree Path
Check your degree requirements to find your required mathematics courses, and refer to the flow chart.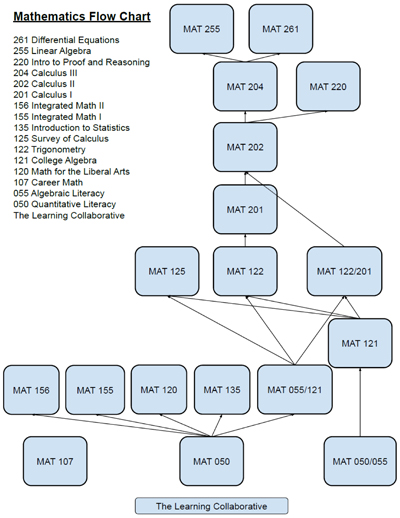 Where to Begin
How do I know which math class to start with?
There are several ways to place into your first math class at Red Rocks.
The most common way is by taking the placement test in our testing center. The test is free the first time you take it and $5 after that (maximum of 3 tries per semester).  Please plan on at least 2 hours to complete the math placement test.  See the assessment center for more details.

If you have recent college transcripts, your prior math classes may place you into the appropriate math class.

If you have recent (within 2 years) ACT math or SAT math scores, those can place you as well.

AP Calculus scores can place you into the correct course in the Calculus sequence
Is there a place that I can review before I take the placement test?
Yes, there are a lot of resources out there! Here are a few:
CCCOnline Open Online Course
Older videos covering basic math
Newer videos starting with algebra
Videos covering algebra in more depth
I took Algebra 2 and Trigonometry in high school. Can I go straight into Algebra, Trigonometry, Precalculus, or Calculus at Red Rocks Community College? I took calculus in high school. Can I go straight into Calculus I or Calculus II at RRCC?
High school classes cannot be used to place a student into a math class at Red Rocks. But if you received a 4 or 5 on your AP Calculus AB test, you can move on to Calculus 2. If you received a 4 or 5 on you AP Calculus BC test, you can move on to Calculus 3.
Registration Questions
Why can't I register for any math class I want?
Our focus is on getting you into the correct math class for you. Taking a class at a level that is too high for a student typically results in failure of the class, money lost, and the student falling a semester or more behind. Placing students using the measures above gives the student the best shot at success.
I want to add a class late. What do I need to do?
Fill out a Registration by Permission Form. These are found on the Rock under the Student Tab in My Student Stuff. It's also a good idea to contact the instructor via email. Please note that classes completely close on the drop date which is typically after the 2nd week of the semester.
The class I want is full. What do I do?
Before the semester begins, you can get onto a waitlist for the course. This is the only way to get into a full class before the beginning of the semester. If you get added to the waitlist for a class, it's a good idea to contact your instructor to let them know that you wish to be in the class.
I'm on the waitlist for a class. Now What?
Check your @student.cccs.edu email every day! You will be sent an email when a seat opens up, and you'll only have 24 hours to reply. If you are still on the waitlist for a class on day one, show up to class if your instructor allows it (if the class is very full, please let students officially on the roster use the seats). Depending on first-week attendance, you may be able to get into the course when a seat opens up.
Help!
Can I get a tutor for my Red Rocks math class?
Yes! We offer free tutoring in the Learning Commons – it's a great resource! Just sit at a table and raise a flag when you have a question. You should use this resource as much as you'd like. They also provide one on one tutoring by appointment.
Math Lab (tutoring for all levels of math)
Located in the Learning Commons just down the stairs and to the left as you walk in.
Click Here For Hours
College Prep Zone (tutoring specializing in MAT 050 and 055)
Located in the Learning Commons just down the stairs and to the right as you walk in.
Click Here For Hours
We also offer online tutoring through TutorMe. You can access it through your course's Desire2Learn (D2L) page 24 hours a day.
Online Classes
Are online classes harder than in-class classes?
The material is the same online, but it can be very difficult to learn math without a classroom setting. It takes an extremely self-motivated and driven student to learn math without a regular in-person class time.
For online math classes, are the tests taken online or do I have to come to campus?
We require tests for RRCC Online MAT 107, 120, 121, 122, 125, 135 to be taken in a proctored environment. This is typically 2-3 times a semester. These can be taken in our Lakewood or Arvada testing centers or arranged to be taken in an approved testing center near you.
We may also require limited in-person testing for online MAT 050 or 055.
What is the difference between RRCC Online and CCCOnline courses?
Most RRCC Online courses use a site called mymathlab.com which has very nice resources.  If you take an RRCC Online math course, you'll have a full-time instructor at Red Rocks running your course with office hours at the Lakewood campus. CCCOnline courses are taught by a third party. They typically take place within D2L (Desire 2 Learn) aka Brightspace. CCCOnline instructors don't have an office at the Lakewood campus or office hours.
Calculator Policies
Will I be able to use a calculator on tests?
In MAT 050 there are no calculators allowed on tests. In all other classes, calculator usage on tests is the decision of the instructor, though in most cases calculator use is limited or excluded on exams.
Will I need to learn how to use a graphing calculator?
Graphing calculators may be required in classes above 121 level based on instructor policies. For more information, contact brenda.forland@rrcc.edu.
I don't want to buy a graphing calculator. Can I borrow a graphing calculator from the school?
Yes! Graphing calculators are available from the RRCC Library to be checked out.  Please see the library for more details.
Other Questions
I took MAT 107, 120, 135, or 155 for my last degree, but I now need to take MAT 121. What class should I take next?
In this case, you'll need to take MAT 055 before moving on to MAT 121.  You could also try taking the placement test to see if you're ready for MAT 121 already.