Adventures Program
The purpose of the Red Rocks Adventure Program (RRAP) is to provide high quality, comprehensive, student-led outdoor adventure trips that provides accessible, inclusive, and challenging excursions to the students of Red Rocks Community College, with a focus on student development, holistic wellness, and community development.  Trips will be available to all fee-paying students at a minimal cost, and will include such activities as rock climbing, backpacking, peak bagging, mountain biking, and snowshoeing. Necessary equipment will be included in the registration cost, as well as trained leaders who will provide instruction. RRAP will also provide regular clinics to the Red Rocks community on topics like backcountry cooking, Leave No Trace ethics, orienteering, bike maintenance, and more.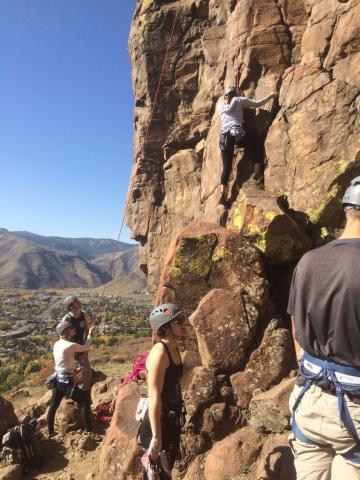 ---
Spring 2018 Trips:
Hiking - North Table Mountain
Date:  Jan. 27, 9AM – 4PM
Cost: FREE
Difficulty Level:  Easy - Moderate
Come with us as we explore the single track of North Table Mountain in Golden. This unique mountain features high rocky outcroppings, an elevated prairie ecosystem, and amazing views of both Denver and the foothills. Leaders and trekking poles will be provided.
Snowshoeing/Hiking – Three Sisters Park
Date: Feb. 10, 8AM – 4PM
Cost: FREE
Difficulty Level: Easy - Moderate
Come explore the Alderfer Three Sisters Park outside Evergreen. We'll walk the trails through rock formations and pine forests, hopefully on a trail of deep snow. Leaders, snowshoes, and poles provided.
Snowshoeing/Hiking – Golden Gate State Park
Dates: Feb. 24, 7AM – 6PM
Cost: FREE
Difficulty Level: Easy – Moderate
"If you can walk, you can snowshoe." Come with us for a Saturday stroll around Golden Gate Canyon State Park, just west of Golden. We'll keep a slow to moderate pace as we check out the scenic winter wilderness.
Rock Climbing – North Table Mountain
Date: March 11, 8AM – 4PM
Cost: FREE
Difficulty Level: Moderate
Join us for a day of outdoor rock climbing at the North Table Mountain Cliffs overlooking Golden. All experience levels are welcome, and leaders, equipment, and instruction will be provided.
Weekly - Green Mountain Hiking/Running/ Mountain Biking – Starting March 1
Email ben.wygant@rrcc.edu for more information, or stop by the SRC to register for a trip.
---
Free Skills Clinics
(By request – contact ben.wygant@rrcc.edu to schedule)
Mountain Bike Basics Clinic
Mountain Bike Maintenance Clinic
Bear Bag Clinic
Orienteering and Map Skills Clinic
Backpacking Basics Clinic
Leave No Trace Ethics
Camp Cooking
Team Building and Low Challenge
---
Trip Planning Resources
Planning your own trip?  Want to learn how to fix your bike?  Not sure if that mushroom you just ate was poisonous? Check out our Trip Planning Resource room at the Student Rec Center. Maps, guidebooks, flora and fauna identification guides, and how-to books are available to use or check out for free.  Just bring your selection to the SRC front desk.