Climbing Wall
NOTICE: 
In accordance with recent guidelines for public health and safety, the RRCC Climbing Wall will be closed until further notice.  Thank you for your patience and understanding.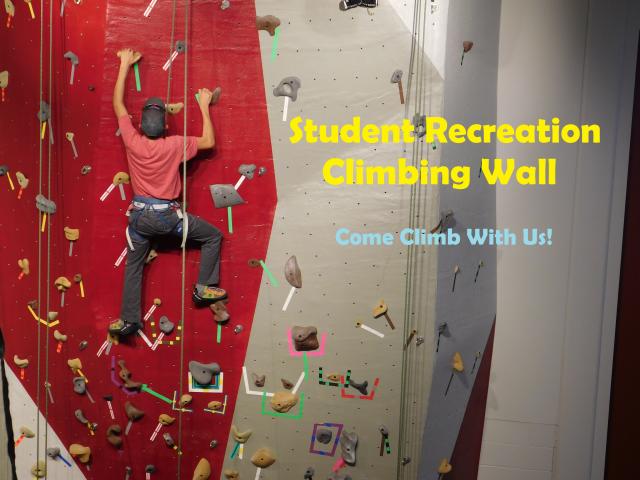 The Student Recreation Center houses a 28-foot indoor climbing wall for bouldering, top roping, and lead climbing.  The climbing wall provides staff for supervised roped climbing by request through the summer semester.  Bouldering is available any time the Recreation Center is open and requires members to sign a waiver prior to climbing.  Belay and lead climbing clinics and assessments are available from the staff by request during supervised climbing hours, and a belay certification is required in order to belay at the wall.
Climbing shoes, chalk bags, helmets, harnesses, and belay devices are available free of charge to SRC members.
---
FALL 2020 CLIMBING PROGRAMS
Fall programs will be delivered virtually.  Please check our social media accounts for updates. 
Register for events at src.rrcc.edu or at the climbing wall desk.
---
CLIMBING CLINICS:
The following clinics will be offered at the wall to SRC members free of charge:
Learn to Climb (by request)
This clinic will cover climbing styles, terms, equipment, movement, and belaying.  No climbing experience necessary to participate.
Lead Climbing 101 (by request)
This clinic will introduce participants to lead climbing and will cover lead belaying, clipping, communication, and technique.  Participants must be top rope belay certified and have adequate climbing experience.
Basic Climbing Anchors (by request)
This clinic will teach the fundamentals of climbing anchor construction, including types of anchors, equipment, knots, and techniques.  Adequate climbing experience is required to participate.
Interested in signing up?  Email ben.wygant@rrcc.edu to register.
---