Group Fitness

Welcome to the FIT-WELL Group Fitness Program!
The FIT-WELL – Group Fitness Program has a philosophy that focuses on enhancing individual participant experiences by providing quality fitness and wellness opportunities through social engagement while encouraging physical and mental development, community and lifelong wellbeing.
---
New Class Offering! Journey Circles w/ Dina
(Begining Monday February 18th, 2019) See flier for more details!
What Are Journey Circles? Journey Circles are similar to what one might experience during a meditation class - a meditative state for the mind, body, spirit, and soul connection. In a journey circle, the Shamanic Instructor (with the use of drums) will guide participants through a series of journeys, each with a set goal or intention. Each participant is highly encouraged to bring their journal to log their journey experiences.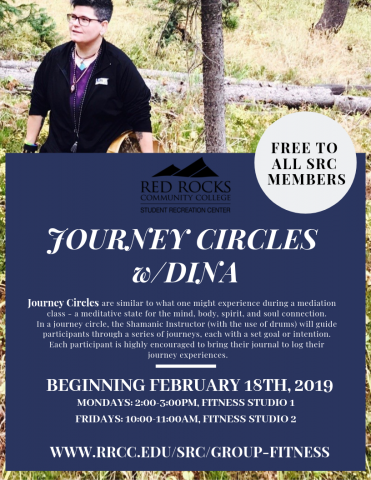 Group Fitness Schedule
Spring 2019 Group Fitness Schedule! Click images for PDF.
Group Fitness Classes Begin Monday January 28th, 2019
Group Fitness Class Descriptions
Spring 2019 Group Fitness Class Descriptions! Click images for PDF.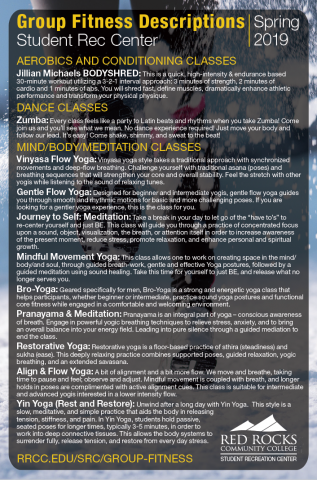 Get Live Calendar Updates on Group Fitness Classes Here!
---
Interested in Becoming a Group Fitness Instructor?
The Fall 2018 course has passed. Please visit the website again in the near future for information on the next prep course.
If you have further questions regarding the certification, please email Fitness Coordinator, Bre'una Keeton. 

---
We are currently seeking student Group Fitness Instructors with a passion for fitness and wellness. If you meet the qualifications, please email Fitness Coordinator, Bre'una Keeton, at breuna.keeton@rrcc.edu. 
---
Join Us For Group Fitness at the Student Recreation Center!