Group Fitness

NOTICE: Due to the recent concerns with COVID-19, the SRC is canceling all group fitness classes for the spring 2020 semester.
Welcome to the FIT-WELL Group Fitness Program!
The FIT-WELL – Group Fitness Program has a philosophy that focuses on enhancing individual participant experiences by providing quality fitness and wellness opportunities through social engagement while encouraging physical and mental development, community and lifelong wellbeing.
---
Spring 2020 Group Fitness classes are canceled for the duration of the semester.

Get Live Calendar Updates on Group Fitness Classes Here!
---
Interested in Becoming a Group Fitness Instructor?
Spring 2020 Course Offering
 
HWE 137: Skills & Methods of Teaching Group Fitness Instruction
3 credit hours (12-week course)
February 25, 2020 - May 12th, 2020
Tuesdays and Thursdays, 5:30pm - 8:00pm
Red Rocks Community College Lakewood Campus - Room TBD
*Register for course 'The Rock' portal. This course is under the 'Health and Wellness' tab. This is an academic course offered through RRCC so you will be responsible for enrolling as a student of Red Rocks and paying the tuition and fees associated with the course. Note, this is 
only 
a prep course to prepare for the certification exam - the certification exam is offered separately. Prep course students can earn a discount on the exam for taking the prep course.*
If you have further questions regarding the certification, please email Fitness Coordinator, Bre'una Keeton. 

---
We are currently seeking student Group Fitness Instructors with a passion for fitness and wellness. If you meet the qualifications, please email Fitness Coordinator, Bre'una Keeton, at breuna.keeton@rrcc.edu.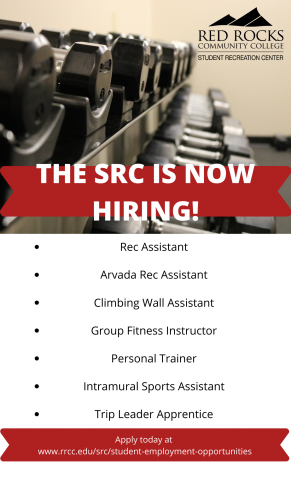 ---
Join Us For Group Fitness at the Student Recreation Center!