Group Fitness

Welcome to the FIT-WELL Group Fitness Program!
The FIT-WELL – Group Fitness Program has a philosophy that focuses on enhancing individual participant experiences by providing quality fitness and wellness opportunities through social engagement while encouraging physical and mental development, community and lifelong wellbeing.
 
---
Fall 2018 Group Fitness Schedule

Get Live Updates on Your Group Fitness Class Here!
---
Interested in Becoming a Group Fitness Instructor?
Red Rocks Student Recreation Center is currently offering a preparatory course for the Fall 2018 semester. This 8-week course starts the week of August 27th and ends the week of October 18th, 2018. This course is FREE to current RRCC students/faculty/staff. The coures is not for credit and is a in-house prep course at the SRC. The class days, times, and location is specified below:
ACE Group Fitness Prep Course (8-weeks)
Fridays 2:00-4:00PM
SRC Snowmass Room 4115
Starting August 27th, 2018; Ending October 18th, 2018
*Group Fitness certification is separate from course and optional. Student certification exam discounts available once course is complete.*
 
If you have further questions regarding the certification, please email Fitness Coordinator, Bre'una Keeton. 

---
We are currently seeking student Group Fitness Instructors with a passion for fitness and wellness. If you meet the qualifications, please email Fitness Coordinator, Bre'una Keeton, at breuna.keeton@rrcc.edu.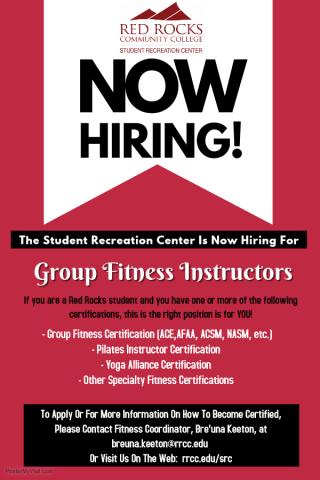 ---
Join Us For Group Fitness at the Student Recreation Center!